Darstellende Kunst – Mitglieder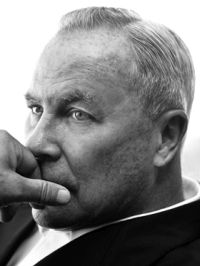 © Yiorgos Kaplanidis
Robert Wilson
Regisseur
Am 4. Oktober 1941 in Waco/Texas geboren, lebt in New York.
Seit 1996 Mitglied der Akademie der Künste, Berlin, Sektion Darstellende Kunst.

Biographie
Ende der 50er Jahre Studium der Betriebswirtschaft an der University of Texas.
1962 Wechsel an das New Yorker Pratt Institute zum Studium der Kunst und Architektur (B.F.A. 1965).
Engagement in der therapeutischen Theater-Arbeit mit hirnverletzten und behinderten Kindern in New York.
Tätigkeit als Architekt bei Paolo Soleri in Arizona.
Entwurf von Bühnenbildern für Broadway-Aufführungen.
Aufgabe der Malerei und Inszenierung von Theaterstücken.
1969 Gründung der Byrd Hoffman School for Byrds in New York.
1972 einwöchige Theater-Landschafts-Erkundung Ka Mountain and Guardenia Terrance beim Festival der Künste in Schiraz/Iran.
1971 und 1980 Guggenheim Fellow.
Seit Mitte der 1980er Jahre neben eigenen Stücken auch Inszenierung von Stücken und Opern anderer Autoren.

Fellow der American Academy in Berlin; Ehrenmitglied der American Academy of Arts and Letters; Künstlerischer Leiter der Byrd Hoffman Walter Mill Foundation; u.a. Mitglied der Dramatists Guild of America; des Institute of Contemporary Art in Boston; des PEN American Center; der Société des Auteurs et Compositeurs Dramatiques und der Internationalen Heiner Müller Gesellschaft.
Werk
Inszenierungen:
The King of Spain, UA, Anderson Theater, New York 1969
The Life and Times of Sigmund Freud, UA, Brooklyn Academy of Music, New York 1969
Deafman Glance, UA, University Theatre, Iowa City 1970
The Life and Times of Joseph Stalin, UA, Det Ny Theater, Kopenhagen 1973
A Letter for Queen Victoria, UA, Spoleto Festival 1974
Einstein on the Beach, UA, Festival d'Avignon 1976
I Was Sitting on My Patio This Guy Appeared I Thought I Was Hallucinating, UA, Eastern Michigan University, Ypsilanti, Michigan 1977
Death, Destruction and Detroit I, UA, Schaubühne, Berlin 1979
The Man in the Raincoat, UA, Schauspielhaus Köln 1981
Die goldenen Fenster, UA, Münchner Kammerspeiele 1982
Hamletmaschine, Heiner Müller, New York University 1986
Alkestis, Euripides, American Repertory Theatre, Cambridge, Massachusetts 1986
Death, Destruction and Detroit II, UA, Schaubühne, Berlin 1987
Parzival, Tankred Dorst, Thalia Theater, Hamburg 1987
Cosmopolitan Greetings, UA, Hamburgische Staatsoper/Kampnagel, Hamburg 1988
The Forest, David Byrne, UA, Freie Volksbühne, Berlin 1988
Orlando, nach Virginia Woolf, Schaubühne, Berlin 1989
The Black Rider, UA, Thalia Theater, Hamburg 1990
King Lear, William Shakespeare, Schauspielhaus Frankfurt 1990
Parsifal, Richard Wagner, Thalia Theater, Hamburg 1991
Lohengrin, Richard Wagner, Opernhaus Zürich 1991
Doctor Faustus Lights the Lights, nach Gertrude Stein, Hebbel-Theater, Berlin 1992
Alice, nach Lewis Carrol Musik: Tom Waits, UA, Thalia Theater, Hamburg 1992
Der Mond im Gras, UA, Münchner Kammersiele 1994
T.S.E., Performance-Installation, UA, Annenburg Center, Philadelphia 1994
Hamlet - A Monologue, William Shakespeare, Alley Theatre, Houston 1995
Time Rocker, Musik: Lou Reed, UA, Thalia Theater, Hamburg 1996
Saints and Singing, nach Gertrude Stein, UA, Hebbel-Theater, Berlin 1997
Der Ozeanflug, Bertolt Brecht, Berliner Ensemble 1998
Dantons Tod, Georg Büchner, Salzburger Festspiele 1998
Scourge of Hyacinths, UA, Grand Théâtre de Genève 1999
The Days Before: Death, Destruction and Detroit III, UA, Lincoln Center Festival, New York 1999
POEtry, nach Edgar Allan Poe, Musik: Lou Reed, UA, Thalia Theater, Hamburg 2000
Woyzeck nach Georg Büchner, Musik: Tom Waits, Betty Nansen Teatret, Kopenhagen 2000
Die Walküre, Richard Wagner, Opernhaus Zürich 2001
Winterreise, Franz Schubert, Théâtre du Châtelet, Paris 2001
Aida, Giuseppe Verdi, La Monnaie, Brüssel 2002
Caligari, nach Das Cabinet des Dr. Caligari, Robert Wiene, UA, Deutsches Theater, Berlin 2002
Die Frau ohne Schatten, Richard Strauss, Opéra National de Paris 2002
Leonce und Lena, Georg Büchner, Musik: Herbert Grönemeyer, UA, Berliner Ensemble 2003
Die Versuchung des heiligen Antonius, Gustave Flaubert, RuhrTriennale Duisburg 2003
2 Lips and Dancers in Space, UA, Grand Théâtre de Luxembourg 2004
Der Ring des Nibelungen, Richard Wagner, Théâtre du Châtelet, Paris 2005
Peer Gynt, Henrik Ibsen, Norwegisches Staatstheater, Oslo 2005
Johannes-Passion, Johann Sebastian Bach, Théâtre du Châtelet, Paris 2006
Glückliche Tage, Samuel Beckett, Grand Théâtre de Luxembourg 2008
Shakespeare Sonnette, William Shakespeare, Berliner Ensemble 2009
Katja Kabanowa, Leoš Janáček, Nationaltheater Prag 2010
The Live and Death of Marina Abramović, UA, Manchester International Festival 2011
Il Ritorno di Ulisse in Patria, Claudio Moteverdi, Teatro alla Scala, Mailand 2011
Peter Pan, James Matthew Barrie, Berliner Ensemble 2013
Das Mädchen mit den Schwefelhölzern, Helmut Lachenmann, Ruhrtriennale 2013
Les Négres, Jean Genet, Théâtre de l'Odéon, Paris 2014
Faust I und II, Johann Wolfgang von Goethe, Berliner Ensemble 2015
Endspiel, Samuel Beckett, Berliner Ensemble 2016
Der Sandmann, nach E.T.A. Hoffmann, Ruhrfestspiele Recklinghausen 2017
Mary Said What She Said, Darryl Pinckney, Wiener Festwochen 2019

Ausstellungen:
Museum of Fine Arts, Boston 1991
Centre Georges Pompidou, Paris 1991
Contemporary Arts Museum, Houston 1991
Instituto de Valencia de Arte Moderno, Valencia 1992
Grand Hall Gallery, Harvard School of Design, Cambridge 1999
Universität zu Köln 2001
Fondation Pierre Bergé - Yves Saint Laurent, Paris 2004
Japanese American National Museum, Los Angeles 2006

Installationen:
Umwelttheaterskulptur, mit 576 Telefonmasten, Ohio, 1966
Museum Boijmans van Beuningen, Rotterdam, 1993
London's Clink Street Vaults, 1995
Museum Villa Stuck, München, 1997
Guggenheim Museum, 2000
Kunstindustrimuseet, Kopenhagen, 2000
Galerie Lafayette, Paris, 2002
Royal Academy, London 2003
Galerie de France, Paris 2003
Weltausstellung Expo, Nagoya, Japan 2005
Institut Valencia d'Art Modern, Valencia 2009
Auszeichnungen
1977 Lumen Award für Lichtdesign, New York
1979 Deutscher Kritikerpreis
1986 Picasso Award, Malaga Theater Festival
1988 Mondello Award, Palermo
1988 Goldener Löwe der Biennale in Venedig für Skulptur
1996 Premio Europa per il Teatro, Taormina
1997 Tadeusz-Kantor-Preis, Krakau
1998 Harvard Excellence in Design Award
1999 Pushkin Prize, Moskau
1999 Ehrenpreis der Wilhelm Hansen Stiftung, Kopenhagen
1999 Grand Prix de la Critique, Paris
2003 Commandeur de l'Ordre des Arts et des Lettres, Frankreich
2009 Hein-Heckroth-Bühnenbildpreis, Gießen
2007 Jerome Robbins Award, New York
2010 Der Steiger Award, Ruhrgebiet
2016 Deutscher Hörspielpreis der ARD

Einladungen zum Berliner Theaterteffen:
1984 the CIVIL warS, Köln
1987 Hamletmaschine, Hamburg
1991 The Black Rider, Hamburg
Scroll