Performing Arts –
Valeska Gert Guest Professors
Winter Semester 2017/18 - Lia Rodrigues
Photo © Sammy Landweer
Being together
The Brazilian choreographer Lia Rodrigues established the residence of her world-renowed Companhia de Danças in the Favela de Maré in Rio de Janeiro. As a Guest Professor she will propose certain questions and issues that she has encountered in this specific territory: "We will work from the idea of ´being together´, using strategies of creation linked by a dramaturgical line that will be developed together with the students, articulating political, ethical and aesthetic aspects. What rituals, sacrifices, and agreements are necessary for the constitution of a collective? How can we consider the singularity in this collective? How can each participant find a place – although always provisional – and still retain her or his similarities and (gender) differences?"
Opening
Lecture and talk with Ricardo Carmone (Dance Curator HAU)
17.10.2017, 7 pm 
Akademie der Künste
Hanseatenweg 10, 10557 Berlin
Summer Semester 2017 - Mette Ingvartsen
Photo © Danny Willems
Viscous Environments
Danish choreographer and dancer Mette Ingvartsen is the guest professor for the summer semester 2017. "Together with the students I would like to think about how to create a durational environment of bodies and non-human performers interacting with one another. This desire comes from trying to unite two strands of research I have been doing over the last years: On one hand how to make objects, matters and materials agents of performative expression and on the other hand, how to understand sexuality as a social and political issue rather than a private concern."
In cooperation with the Freie Universtität Berlin and the German Academic Exchange Service. 
Opening
Lecture and
talk with Gabriele Brandstetter
24.4.2017, 7 pm 
Akademie der Künste
Hanseatenweg 10
10557 Berlin
Presentation
Viscous Environments - Longterm Performance
30.6.2017, (free) access
from 3 to 6 pm
Institut für Theaterwissenschaft of Freie Universität Berlin, DanceLab,
Grunewaldstr. 35, 12165 Berlin
Winter Semester 2016/17 - Meg Stuart
Photo © Eva Würdinger
As the Valeska Gert Scholar of the fall-winter 2016/2017 I will ask the dance studies students to inform me from a personal perspective about the work and life of Valeska Gert. I will ask them what is relevant for them now about her contribution in dance and performance and how it relates and inspires their current interests. I will share my own fascination and questions about Valeska Gert and outline a creative process that spirals away from a fixed centre point allowing for associations and unusual connections with other material. Based on our discussions and collective brainstorming we will create a map of movement studies, and choreographic proposals, which we will explore to various degrees throughout our working time.
Meg Stuart
Valeska´s Blind Date
In 1994, Meg Stuart, American dancer and choreographer, founded her Damaged Goods company in Belgium. In the 2016/17 winter semester, she takes up the Valeska Gert Guest Professorship. In conversation with Annemie Vanackere (HAU Hebbel am Ufer) in the Opening Lecture she discusses aspects of her artistic development and presents her projects for her Dance Studies students. The discussion starts from the personal significance of Valeska Gert's body of work for people today.
In cooperation with FU Berlin and the German Academic Exchange Service (DAAD).
Opening Lecture
2.11.2016
7 pm 
Akademie der Künste
Pariser Platz 4
10117 Berlin
Presentation
8.2.2017
7 pm
Akademie der Künste
Pariser Platz 4
10117 Berlin
Summer Semester 2016 – Deborah Hay
Photo © Rino Pizzi
"The body is capable of so much more than what it can do. For example, the range of sound coming from the piano was more or less constant until John Cage created the prepared piano by introducing different objects that were placed between or on the strings, hammers or dampers. These outside components altered the piano's harmonics. In a similar way the students will be given several compelling questions used to access an otherwise unnoticed bodily intelligence."
Deborah Hay
In summer 2016, New York dancer and choreographer Deborah Hay, a member of the radically experimental Judson Dance Theatre in the 1960s, takes up the Valeska Gert Guest Professorship for Dance and Performance. In conversation with Renate Graziadei (Tanzkollektiv laborgras) she offers an insight into her work and presents the project which she will be working on with her students. Introduction: Gabriele Brandstetter. In cooperation with the Institute for Theatre and Dance Studies at Freie Universität Berlin and the German Academic Exchange Service (DAAD).
Opening Lecture
3.5.2016
Akademie der Künste
Pariser Platz 4, Clubraum
10117 Berlin
Presentation
1.7.2016
Akademie der Künste
Hanseatenweg 10, Buchengarten
10557 Berlin
© Victoria Schaffer
Winter Semester 2015/16 – Joachim Schloemer
Joachim Schloemer, born 1962 in Monheim an der Ruhr, Germany.
"Forms of musicalisation"
Choreographer and director Joachim Schloemer offers an insight into his reading of musicalisation. In conversation with Gabriele Brandstetter, he presents the project which he will be developing together with dance science students during the winter semester to explore how action on stage can be experienced and emphasised as dance, rhythm and narrative. In this process, he is focusing particularly on an idea of musicality as not just illustrating the process of dance, but rather understanding and practising the musicality of the body through movement, in dialogue or as anticyclical / counter-rhythmic to music. Which emotional states and which forms expressing feelings does this then create?
In cooperation with Freie Universität Berlin and the DAAD.
Introductory event
21.10.2015
Akademie der Künste
Hanseatenweg 10, Clubraum
10117 Berlin
Closing event
03.02.2016
Freie Universität Berlin
Institut für Theaterwissenschaft
Hörsaal
Grunewaldstr. 35, 12165 Berlin
Summer Semester 2016 – Robyn Orlin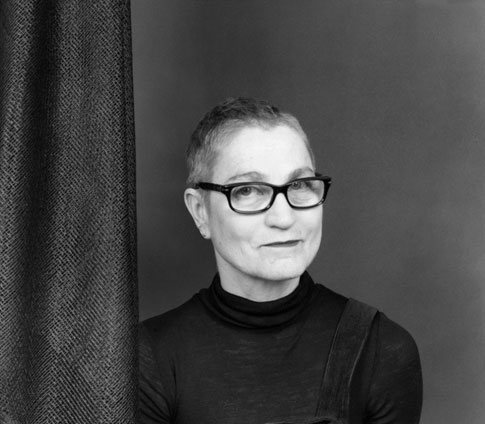 © Peggy Jarrell Kaplan
With her City Theatre and Dance Group, Robyn Orlin has been provoking the exploration of social issues in her home country for a number of years. She studied Dance at the Contemporary Dance School in London and has been focusing on topics such as apartheid and postcolonialism as a choreographer in South Africa since 1993. She celebrated her breakthrough in 1998 with the piece Daddy, I've seen this piece six times before and I still don't know why they're hurting each other, for which she was presented with the Lawrence Olivier Award, the most important British theatre award. She received a multitude of other prizes and awards, including the French National Order of Merit, the Ordre national du Mérite.
Her subsequent productions, for example We must eat our suckers with the wrappers on (2002), Walking next to our shoes (2009) and most recently Beauty stayed just for a moment and then returned to her start position (2013), were also substantially inspired by Orlin's home country of South Africa. Orlin has led a multitude of national and international choreography workshops (in countries such as Japan, Greece and Germany) and is the founder of the Dance Department of the Federated Union of Black Artists.
With the students of Dance Studies, she will provide insights into her artistic exploration of different cultural concepts. She will use experiences from the students' direct surroundings as impulses and stimuli for the development of their own forms of presentation, which will question the transfer of the students' own and other cultures in their boundaries.
Introductory event
29.04.2015
Akademie der Künste
Hanseatenweg, Clubraum
Closing event
12.07.2015
Akademie der Künste
Hanseatenweg
Scroll