Restoration
Restoration of book covers from the bequest library of John Heartfield
Project duration: August 2019 – December 2019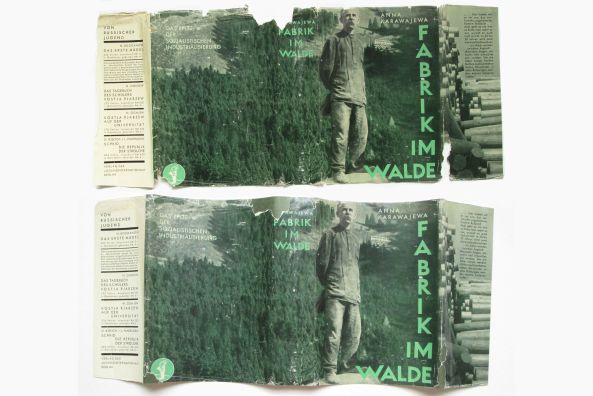 © The Heartfield Community of Heirs
The visual artworks of John Heartfield (1891-1968) is one of the best-known and most frequently requested holdings of the Art Collection of the Akademie der Künste. A partial holding comprises a bequest library of 464 volumes, which Heartfield and his wife Gertrud ("Tutti") collected and which were later supplemented by further acquisitions. This special library represents the impressive spectrum of Heartfield's book design. Many of the book covers have been modified on numerous occasions in the course of their publication history, for example as a result of censorship measures. Already during Heartfield's lifetime, the rare book covers for limited or censored editions became particularly popular collector's items – in many cases, these covers are what gives the books their value.
In designing the book covers, Heartfield aimed to generate curiosity among the reader, and he used the design of the covers – a coherent, often original interplay of picture collages and typography – to create appeal at visual level as well. The contents of the book and the cover entered into a symbiotic connection – a symbiosis that played a central role in the designer's rise to fame. In the words of Kurt Tucholsky: "If I were not Peter Panter, I would like to be a book cover in Malik Publishing House. That John Heartfield is truly something of a wonder of the world. The ideas he comes up with! The fantastic things he does! I've had one of his photomontages framed, and I'd like to keep nearly all of them."
Peter Panter (Kurt Tucholsky), Auf dem Nachttisch. In: Die Weltbühne, (2 Feb. 1932), No. 5, p. 177
In the course of transferring the book collection to custom-fit slipcases, 45 original book covers were removed that had been badly damaged by usage, transport and moving of the books as well as by the process of ageing, thereby resulting in compressions, creases, tears and flaws in the paper. The aim of the restoration was to protect especially badly damaged covers against further degradation and to improve their overall appearance. Thanks to the restoration and preservation measures that were carried out, the library collection can be stored under optimised conditions and can thus remain accessible to the Heartfield research community into the future.
Project management: Ingeborg Fries, Anna Schultz
Project collaboration: Vendulka Cejchan, Diploma in conservation
Funded by the Federal Government Commissioner for Culture and the Media
Scroll