29.3.2013, 09 Uhr
BUILDINGS TELL STORIES
Culture:City in motion picture - Part 1 : The Astronaut´s Ark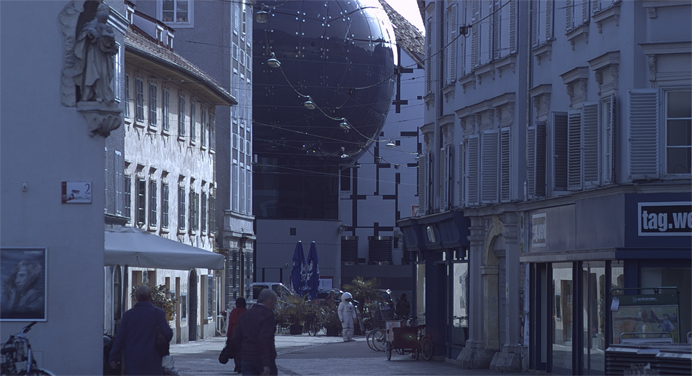 15 short films, exploring the function and consequences of the architecture and the buildings on local people, are on offer as part of the exhibition Culture:City, produced especially by independent directors - students and graduates of the Berlin Film School DFFB. These young filmmakers have visited the actual buildings world wide and have condensed their impressions onto films that can be called up from the tablet computer in the exhibition in front of every model or be viewed in a small cinema that has been installed at the end of the show.
Have a closer look with us at their concepts behind - and
enjoy them in full length during your visit in the exhibition!
… today we start with:
The Astronaut´s Ark
" Bright stars, a haze of emissions, and supernova remnants move past us. We are invited to venture out into the unknown. Suddenly we find ourselves in the middle of the next stage of our evolution, and we dive into microscopic images of single cells, dividing and producing life. It is precisely this transgression of borders that the architects Peter Cook and Colin Fournier wanted to achieve at the Kunsthaus, and that this film extends further. A glimpse into our past and present, from a future that has not yet been written.
An astronaut wakes up and sets out to explore his surroundings. The "city of art" is revealed to him, up in the top-most space, like a stage set within a stage set. A reflection of our times, it is designed by Michelangelo Pistoletto with the idea of using artistic strategies to make the world a better and more livable place.  This deserted and fictional city appears to the astronaut like a relic from a bygone era. He feels as if he has ended up in the belly of a whale and distant memories are evoked, unconscious desires - to be eaten by a dragon or to feel the delicate pleasure of a cat's rough tongue on his skin.
And that is exactly what a museum should be: a place that plays with our yearning for the surprising and the unexpected, a place for bizarre confrontations, a place full of things that have not yet been fully digested. "
(Fiene Scharp, Kai Miedendorp and IJ. Biermann)
Director / Editor:
Fiene Scharp, Kai Miedendorp and IJ. Biermann
Camera:
Kai Miedendorp
Sound Design:
Christian Blasius
Cast:
Thomas Harbort
Project:
Kunsthaus Graz, Graz, 2001-2003, Peter Cook, Colin Fournier
Scroll