Requests and Archives Use
Photo: Erik-Jan Ouwerkerk, 2016
Orders for archival materials in the Reading Rooms at Robert-Koch-Platz and Pariser Platz must be placed via order slips at the reading room desk by 10 am or
1 pm.
Library media at Pariser Platz will be retrieved at 10 am and 1 pm. Books and archival materials ordered until 1 pm will be available on the same day, unless they are held in an external storage.
Pre-Orders
Up to 5 call numbers per day can be ordered via email until 1 pm on the previous opening day. Please note that some of our materials are kept in an external storage. For these archival materials, delivery times are extended. Please enquire about the specific conditions.
Use of Reading Rooms
When you visit an Archives Reading Room for the first time, you will be asked to present an identification document.

You are only allowed to take pencils into the Reading Rooms to take your own notes. Our archival documents and books must be treated with respect. Do not place writing materials or other objects on them, lean on them or use them as a desk pad for writing on. Do not deface the materials, for example, by markings, underlinings or the use of sticky notes.

Use protective gloves when handling photographs, negatives and microfiches. Archival materials, library media and finding aids are to be treated with due care and kept in the sequence as received.

Mobile phones are not permitted in the Reading Rooms; taking photographs and filming is prohibited in these rooms.

Food and drink are not allowed in the Reading Rooms.
The lockers are coin operated and require a one-euro coin to enable locking. The coin is automatically returned after use.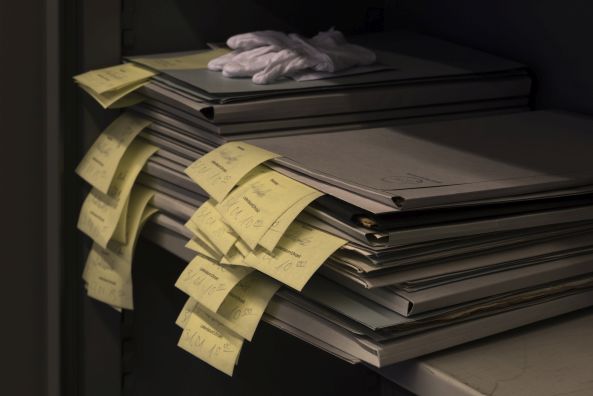 Photo: Erik-Jan Ouwerkerk, 2016
Scroll