Artistic Positions
Conceived by Julia Grosse and Yvette Mutumba, this is a reading room that offers visitors an extraordinary, sometimes disconcerting selection of books that are linked to the topic of colonialism in various ways – from a history book on German colonies to a fashion book on the Sappeurs in the Democratic Republic of the Congo all the way to an analysis of capital markets in the 21st century. A walk-in book case structure that can be used from different perspectives and which was exclusively developed to work in and move to diverse locations.
Further information
Subservient Ghosts (Dienstbare Geister)
Radio play by Paul Plamper with Sandra Hüller, Olivier Djommou, Cristin König, Richard Djif, Fabian Hinrichs et al.
In 1905 a destitute young woman leaves Berlin and immigrates to Cameroon, a German colony. Her social advance comes about at the expense of native neighbours and servants who persistently resist their German colonial masters, but in vain. In 2015 a young man sets out from Cameroon headed toward Germany. He sees no alternative for himself but to go to Europe, which is affluent. He fights for and finally manages to get a permanent job in Berlin through persistent selfexploitation, while increasingly losing contact with his homeland. But one day he is expected to do his boss a favour and he takes an assignment in Cameroon.
Based on diary entries of women who went to colonially occupied areas at the turn of the 20th century, as well as current interviews with refugees, Paul Plamper constructs two migration stories. In this work, the linguistic nuances of usurpation and humiliation, but also of political correctness and a misguided helper syndrome can be traced. The stories do not focus on wrongdoers, but on taking part in a daily life in which naivety and dependencies are trapped in an abysmal relationship with one another.
17 Jun 2018, 7 pm: radio play and talk with Richard Djif, Paul Plamper, Jelka Plate and Peggy Piesche
Das Kongo Tribunal
Film by Milo Rau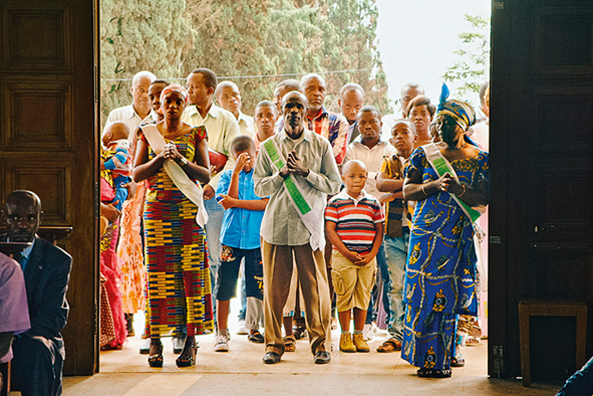 Das Kongo Tribunal, film still © Real Fiction
Making use of an experimental setup, Milo Rau shows what neither the Congolese government nor the International Criminal Court have achieved. In Bukavu, where conflicts of interest between multinational companies and the local population have escalated, Rau arranges a civilian tribunal so that opposing parties can meet – bringing together forcibly displaced farmers, managers, human rights lawyers, and government representatives. Ethnic differences and the fight for raw materials have long overlapped here.
9 Mar 2018, 7 pm: Film and talk with Sylvestre Bisimwa, Wolfgang Kaleck, Fiston Mwanza Mujila, Milo Rau, Klaus Theweleit
O Sacudimento da Casa da Torre and O Sacudimento da Maison des Esclaves em Gorée
Video installation by Ayrson Heráclito
"The two performances were, in fact, conceptualized as a diptych and I'm happy to see this duplication of the performative act on both sides of the Atlantic interpreted as an articulated idea of making an intervention in two major architectural monuments. In the case of Casa da Torre (or Garcia d'Ávila Castle) it is one associated with the old Portuguese colonial system in Bahia, and the Maison des Esclaves (House of Slaves) on Gorée Island is connected with the slave trade between Africa and the New World. When I was thinking about the performances, I asked myself how I could critically re-examine slavery and the colonial past to reflect on the historical and social conditions of the present on both Atlantic coasts. In other words, what are the enduring consequences of colonisation and slavery for Africa and for Brazil? This questioning, however, had to be proposed and carried out artistically, as a performance, and through film and photography." – Ayrson Heráclito
Ayrson Heráclito (b. 1968 in Macaúbas, Bahia, Brazil) lives and works between Cachoeira and Salvador, Brazil. He is a visual artist, curator and professor. In 2016 he received his Doctorate in Communication and Semiotics from PUC São Paulo. He is a Professor at the Center of the Arts, Humanities and Letters of the Federal University of Recôncavo da Bahia. His works move between installation, performance, photography and the audiovisual, and frequently deal with elements of African-Brazilian culture and its connections with Africa and the Diaspora in America. 
Foundering and you can't swim (Im Schiffbruch nicht schwimmen können)
In Marcel Odenbach's film Foundering and you can't swim (Im Schiffbruch nicht schwimmen können, 2011) three Africans are sitting in the Louvre Museum in Paris and contemplate one of the museum's most renowned paintings: The Raft of the Medusa by Théodore Géricault. The painting portrays one of these moments when humankind is thrown back to its pure, brutal and merciless will to survive: 15 of 174 remaining survivors of the noble French marine and colonial power, crazed, parched and starved 13 days adrift on a raft. They only survived by slaughtering mutineers, eating their dead companions and killing the weakest – and they moved forward.
"For this work, I held extensive interviews with the three Africans about their journey, or rather their fleeing, about their motivation and their lives. They spoke to me about their homesickness, their worries, their fears, and being foreign in their own country. They kept things from me, and were ready to be critical. I took just a few statements from these long discourses and decided not to use them orally, but in writing. They are silent before the monumental image, sitting at the seashore, dreaming of things far away. But what happens when the far away becomes home? The sea in my work is the sea in front of my home in Ghana that I see every day. The sea that seems endless and peaceful, then again full of danger. The sea representing hope and homeland – and, for me as a German, at the same time, rescue and fleeing". – Marcel Odenbach
Marcel Odenbach (b. 1953 in Cologne, Germany) lives in Berlin and Cape Coast, Ghana and works in Berlin and Cologne. He studied architecture, art history and semiotics at the Technische Hochschule in Aachen, Germany, between 1974 and 1979. He has taught media art at several institutions in Germany – including the Staatliche Hochschule für Gestaltung, Karlsruhe, the Kunsthochschule für Medien, Cologne, and the Kunstakademie, Düsseldorf.
Weiße Geister – Der Kolonialkrieg gegen die Herero (White Ghosts – The Colonial War against the Herero)
A film by Martin Baer with Israel Kaunatjike, produced by Hanfgarn & Ufer 
The documentary Weiße Geister – Der Kolonialkrieg gegen die Herero (White Ghosts – The Colonial War against the Herero, Germany, 2004. 72 min.) examines the consequences of the German colonial war at the beginning of the 20th century in southwest Africa, and explores how the relationships between the descendants of the colonists and colonial masters and the descendants of the colonised and exploited have developed in the present. Filmmaker Martin Baer and his friend Israel Kaunatjike, a Herero living in Berlin, travelled to Namibia together to trace the colonial past and its impacts. On the one hand, they wanted to find out how the Herero processed the memory of their catastrophic defeat, handed it down and kept it alive. On the other hand, they tried to clarify the relationship the Germans have developed with what was initially celebrated as a victory and then damned as a criminal history. In doing so, they discovered that their own family histories are far more connected to this past than they previously knew.
Martin Baer is a cinematographer, author, and director. His documentaries mainly focus on historical topics and on Africa. In addition he is the author of several texts about Africa's history. His filmography includes Befreien Sie Afrika (1999), Headhunting (2001, Eine Kopfjagd – Auf der Suche nach dem Schädel des Sultans Mkwawa, Weisse Geister (2004) and Kinshasa Symphony (2010). 
Further information
Scroll