Symposium IV
25 – 30 March 2019
Colonial Injustice – Addressing Past Wrongs
In Cooperation with the European Center for Constitutional and Human Rights (ECCHR) and the Goethe-Institut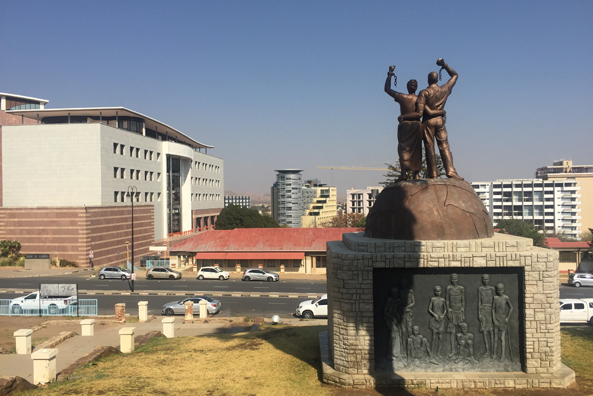 Photo © Judith Hackmack
From 25 to 30 March 2019, a three-part event series in Windhoek, Namibia continued the discussion of the repercussions of Europe's colonial past.
Namibian and international lawyers, artists, constitutional historians and civil society met to discuss colonial repercussions in an interdisciplinary way at the symposium "Colonial Injustice – Addressing Past Wrongs", organized by the Akademie der Künste, the European Center for Constitutional and Human Rights (ECCHR) in cooperation with the Goethe-Institut.
Together with the Ovaherero Genocide Foundation (OGF) and the Nama Traditional Leaders Association (NTLA) and Nama Genocide Technical Committee (NGTC), the Akademie der Künste and ECCHR then invited to the international conference "International Law in Postcolonial Contexts" as well as a public event in Swakopmund.
Participants included: Bonita Meyersfeld (Witwatersrand University in Johannesburg/South Africa), John Nakuta (University of Namibia), Vasuki Nesiah (New York University), Jürgen Zimmerer (Hamburg University) and Wolfgang Kaleck (ECCHR).
Scroll