Arbeit am Gedächtnis
Transforming Archives
Exhibition from 17 June until 19 September 2021
The installation by Robert Wilson can only be viewed until 22 Aug.
Cultural memory is the basis of humanity's futur , and the arts and cultural institutions have a decisive role to play in this. The relationship to remembering and memory storage is a key component of contemporary forms of artistic expression: Artists interrogate archives, challenge the processes of selection, probe gaps in the depots and create their own archives to combat forgetting. For memory is a contentious field. Amidst the current dynamic of digital change, right-wing and nationalistic narratives, post-colonial debates surrounding historical responsibility and ongoing efforts to achieve sustainability and diversity, traditional spaces of knowledge and memory must be defended and simultaneously re-assessed.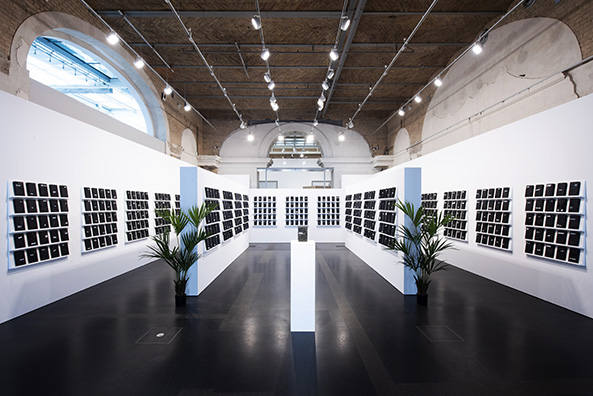 Candice Breitz, Digest, 2020, 1,001-Channel Video Installation: 200 wooden shelves, 1,001 videotapes in polypropylene sleeves, paper, acrylic paint Shelves: 24.4 x 100 x 7.5 cm. Tapes: 20.3 x 12 x 2.7 cm. The content carried on the concealed videocassettes will remain forever unrevealed. Unique Installation. Produced with support from the Sharjah Art Foundation + Akademie der Künste, Berlin. Installation View: Akademie der Künste, Berlin, Photo: Stephanie Steinkopf/OSTKREUZ
The exhibition "Arbeit am Gedächtnis – Transforming Archives" illuminates different aspects of the culture of memory with featuring 13 commissioned works by contemporary artists and 15 exemplary selected exhibits from the Akademe der Künste's archives.
Candice Breitz, with her installation of 1001 sealed VHS cassettes, recalls the influence of this media on the cultural pictorial memory and reflects on storytelling as a strategy of survival. Cemile Sahin unmasks the role of media and monuments in the politics of memory in Iraq. Susann Maria Hempel discovers remnants of everyday cultural heritage in an archaeology of rubbish. Thomas Heise's research into the "corresponding members" of the Akademie der Künste of the GDR uncovers a piece of buried history. Archives are also an expression of mechanisms of inclusion and exclusion: With her archival fiction on an Irish avant-garde, Jennifer Walshe exposes the arbitrariness of the art canon – similar to what Arnold Dreyblatt does with his "Archive Carousel", which is inspired by John Cage's deconstruction of the exhibition business. Ulrike Draesner explores the sediments of colonialism within the archives and their empty spaces. One recurring theme is the question of how to deal with evidence of past violence that extends into our present day: Eduardo Molinari uses his archive to show the continuities of colonial crimes, land seizures and climate change in Patagonia. Matana Robert's sound installation resonates the struggle for freedom of the US civil rights activists Paul and Eslanda Robeson. Mirosław Bałka reads from a 1943 German textbook, a find from his Polish family archive; Cécile Wajsbrot enters into a dialogue with Imre Kertész' bequest about the "language of exile". Memory work is also mourning and trauma work, in which remembering and forgetting correspond with each other, as is the case in Alexander Kluge's film panorama. Robert Wilson's homage to Suzushi Hanayagi reveals how cultural legacy is inscribed in the arts and the body.

In the process of artistic memory work, the archive proves to be both resource and method. Selected objects and documents from the Akademie's archives show how memory acts as a driving force of artistic creativity. Walter Benjamin's programmatic text "Ausgraben und Erinnern" sets the conceptual framework: Memory as a medium for exploring the present. Einar Schleef's diaries, the work curves of Käthe Kollwitz, Walter Kempowski's models for "Echolot", the picture templates of Georg Grosz, Edgar Reitz' production diaries or Inge Deutschkron's letter to her father are among the positions that together form a constellation of artistic modi operandi: "Remembering is work." (Einar Schleef)
Scroll