Robin Minard - Kayapó (2019) (UA)
Mehrkanal-Klanginstallation für ca. 80 mp3-Player, basierend auf Aufnahmen des indigenen Stamms der Kayapó aus Brasilien.
The sound installation Kayapó is based on recordings made in Brazil in 2018 as well as on the radio composition Kayapó composed in 2018-19. Kayapó is the name of an indigenous tribe living in the Amazon rainforest in the Brazilian state of Mato Grosso do Sul. In this part of the Amazon, the murder rate is 20 times higher than in the capital city of Saõ Paulo. The sound material of the work documents nature, protest, cultural appropriation and open violence against indigenous populations. The installation Kayapó is conceived to create a "real" sound space within the Akademie's garden: an auditory environment in which the public is free to move around, discovering the work in space as well as in time.
The radio composition Kayapó was commissioned by Deutschlandfunk Kultur Berlin for the programme "Klangkunst" and the Westdeutschen Rundfunk (WDR 3) Cologne for the programme "Open Sounds". Thanks go to Tiago de Oliveira Pinto for inspiring the project; to Majoí Gongora, Janete El Haouli and Patricia Boniha for their help in Brazil; to Gabriel Soares for his translations in Brasilia; to Sardes Fernandes Ramos for organising the trip to the rainforest and to Gabriel Gomes, who was a trusted guide in the rainforest. The composition is dedicated to the Kayapó and Guarani people in the state of Mato Grosso do Sul in the Amazon rainforest and to the Kayapó leader Raoni.
Robin Minard
Credits / Mitarbeit
Tim Helbig, Martin Recker, Paul Hauptmeier – Assistenz
Auftrag des Festivals KONTAKTE '19 in Kooperation mit dem Berliner Künslerprogramm des DAAD. Mit freundlicher Unterstützung der Ernst von Siemens Musikstiftung. In Zusammenarbeit mit Deutschlandfunk Kultur.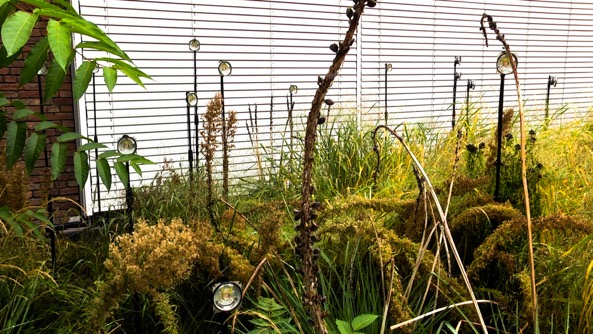 Robin Minard, Kayapó , 2019, Still Susanne Elgeti
Scroll