Exhibition
UNCERTAIN STATES is an exhibition which investigates the significance of memory and narrative within processes of social and cultural transformation. In an era of grave uncertainty fuelled by the destabilising state and social order in the eastern Mediterranean region as well as terrorism and new forms of nationalism and racism in Europe, artists take up the responsibility for the "History of the Other", for communicating in an open and differentiated way where our own artistic position is located in relation to the other. This involves dealing with such concerns as collective traumatisation, the loss of identity, empathy and the attempt to understand, and the experience of profound precariousness. Through their works, visual artists offer a platform not just for sharing and exchange, but also with the potential to transform experience. For this reason, the exhibition is structured around two equally essential elements – political, social and cultural studies research and debates as well as a series of remarkable documents and objects from the Akademie archives presenting artists' memories during conditions of states of emergency in Germany between 1933 and 1945. Together, in the media of film, video, photography, sculpture and painting, these elements create an interplay of discursive, documentary and narrative contributions.
Curators Contemporary Art: Anke Hervol, Johannes Odenthal in cooperation with Katerina Gregos, Diana Wechsler; Archive: Werner Heegewaldt, Anneka Metzger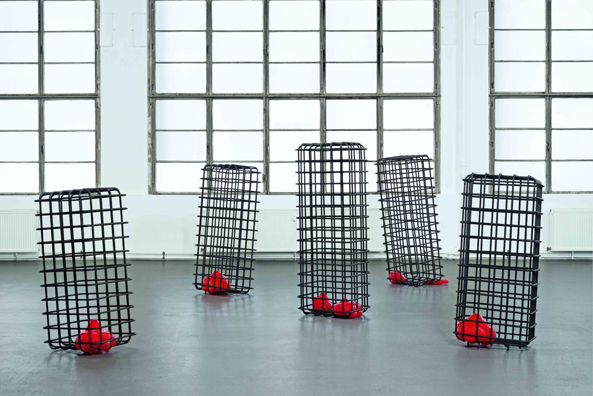 © Mona Hatoum
© Courtesy the artist & Ab-Anbar gallery Tehran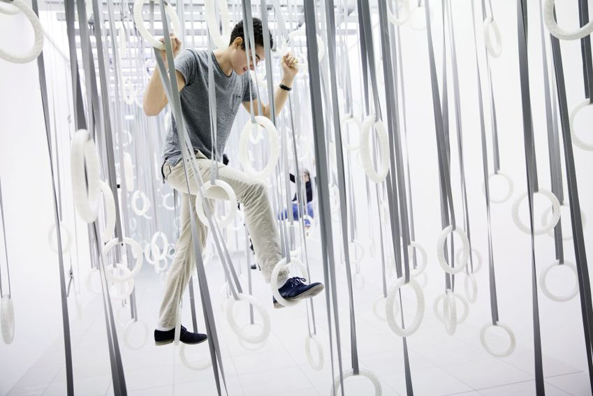 © Courtesy of the artist
© Maziar Moradi
CULTURAL MEMORY AS RESISTANCE
Through their research and creative archives, artists have an increasingly important function in providing a historical orientation, above all, where social and political structures are lacking or supressed. Here, the works by Christian Boltanski and Arnold Dreyblatt are exemplary as are – from a younger generation – works by North African artist Bouchra Khalili and Cypriote artist Marianna Christofides.
In The School of Grosse Hamburgerstrasse, Berlin, 1938 (1998), Christian Boltanski critically engages with the memory of those people whose traces have been obliterated by their flight, captivity or murder during the period 1933–45. The engravings show jewish school children from 1939. In this way, with the simplest of means, Boltanski secures biographical remnants and reconstructs their existence. Yet to ensure they retain a general validity for the present day, he always blends and combines fictive and real fates.
In Innocent Questions (2006–16), an installation integrating media and archival elements, Arnold Dreyblatt takes historical punch cards, IDs, questionnaires and other archive documents to investigate the daily violation of personal rights. In the process he also shows how identities are being created and changed by registration processes.
In her work Foreign Office (2015), Bouchra Khalili recalls the situation in Algiers after the Algerian War of Independence. Between 1962 and 1972, Algiers became a magnet for revolutionaries. In a mixed media documentation, Khalili films two young Algerians discussing globally organised liberation movements such as the Black Panther Party, Nelson Mandela's African National Congress (ANC) or the PAIGC (African Party for the Independence of Guinea and Cape Verde) founded by Amílcar Cabral. As they talk, a destroyed or forgotten topography of revolution is recalled that retains key significance for the emancipation from colonial structures.
The film Return to Khodorciur. Armenian Diary (1986) by directors Yervant Gianikian and Angela Ricci Lucchi illustrates how recounting forgotten or lost stories can represent identity and, above all, impact the future. In this work, Raphael Gianikian, the artist's father, gives a moving account of his return to Eastern Turkey, to a homeland that no longer existed.
This theme is also addressed on a poetic level in the Silence of Ani (2015), a video work by Belgian artist Francis Alÿs recounting the fate of the city of Ani, the former Armenian capital, gradually deserted since the 14th century. In the film, a few children playing, imitating bird calls, are the only human presence in today's ruined city on the border between Armenia and Eastern Turkey. Ani not only becomes a metaphor for the disappearance of advanced civilisations and a meditation on transitoriness, but also stands for the destruction of Armenian identity by newly-created national borders.
For his research project in the Democratic Republic of the Congo, Irish photographer Richard Mosse used Kodak Aerochrome, a discontinued infrared film. In an approach similar to military aerial reconnaissance, he recorded central African huts and villages destroyed in the conflict. Through the film's sensitivity to infrared light, Mosse's series of works become documents in startling violet and pink hues investigating the causes of mass displacement and migration in Africa. By using a military technology, Mosse optically dissects the historical dimension of a destruction going back to the 1960s. Since the images of this horror acquire a lyrical beauty through this process, they make an even stronger impression. The installation Numbers (2015) by the Chechen artist Aslan Gaisumov has a similar effect. At first glance, what appears to be a seemingly incidental wall installation of house numbers from a destroyed street describes the overall magnitude of the First and Second Chechen Wars (1994–96 and 1999–2009) in the Caucasus.
The brutal destruction of living conditions in Syria stands exemplarily for the tragedy of individual fates and a collective traumatisation. For this reason, the stories of those who have lost everything need space to allow them to be continually recounted afresh in all their power and vibrancy. Here, memory becomes, as it were, a survival strategy – and in the case of Iraqi photographer Akam Shex Hadi, this is documented as staged scenes in black-and-white. His portraits of people who have fled their homes were taken in everyday situations in refugee camps. All of his subjects, though, are accompanied by a coiled, snaking black line of material, symbolising the flag of the ISIS terrorist group.
Iranian artist Maziar Moradi's photo series 1979 comprises 37 works reconstructing the life journey of his family who fled their home in 1985 during the Iran-Iraq War. To create the series, Moradi, who based his work on intensive research with those involved, decided to use staged photography at the original sites of the family's escape. Through his method of personal, authentic re-enactment, he has not only created impressive photographs in the service of memory, but also triggered a process of working though the trauma of flight. The images become symbolic codes for a family that today, due to political and cultural upheavals, are scattered across the globe.
The loss of the first language and the process of its displacement through migration provides another level for reflection, as Palestinian artist Zineb Sedira shows in her three-part video work Mother Tongue (2002). In a multilingual conversation with her mother and daughter, the artist always focuses on two languages. She herself is the link between the first and third generation, who rapidly encounter a failure to understand one another ending in speechlessness, because their mother tongues no longer spring from a common identity.

THE BODY AS A SPACE OF MEMORY AND TRANSFORMATION
Micha Ullman's Table 4 (1992) bears traces of a movement in sand, seemingly frozen in time. It is the result of a gesture of giving and taking, sharing and communicating, as the expression of an everyday family or religious ritual. Table 4 belongs to a series of table works which have become a metaphor for an era in the Middle East, the most abstract gesture of a permanent state of emergency where every grain of sand is the subject of struggle.
This performative act is taken up again in current works of art, such as the video installation Capture Practice (2014) by choreographer Arkadi Zaides, a companion piece to the stage performance Archive (2014). Both works are based on footage selected from the archives of B'Tselem – The Israeli Information Center for Human Rights in the Occupied Territories, shot by Palestinians who film the reality of their lives in the West Bank. As a dancer, Arkadi Zaides embodies the movements and gestures of Israelis seen on screen. In this work, which we are showing in the exhibition as an installation, it is precisely this motif of "embodiment" which constitutes the basis for exchange, transformation and empathy.
Tooth for Tooth (2016), a video work by Turkish German artist Nezaket Ekici, revisits this method of embodiment. In this eight-part video installation, eight women confront the narratives of women murdered openly on the street by their husbands or family members. How can we react to the daily, brutal violence of men against women, about which there is very little awareness in Europe? This potential for violence, often hidden, is also the core of Nasan Tur's The First Shot (2014). In this large-scale video work, the emotional turmoil of ordinary people who have never used a firearm is recorded at the moment they first squeeze the trigger, offering a visual analysis of a spectrum of emotions ranging from fear to euphoria.
In contrast, Sigalit Landau describes the body as the radical experiential space of violence and a drawing of boundaries by political, cultural or social repression. In Barbed Hula (2000), she swung a hula hoop of barbed wire around her naked stomach. In this scene set on a beach, Israel's most peaceful border, her own physical experience becomes the artistic equivalent of political space. This is expressed more abstractly in the installation Kapan iki (2012) by Mona Hatoum. Five cages made of iron rods incarcerate red organic vitreous objects, revealing the extreme vulnerability of the human body: how it can be imprisoned, controlled and threatened. These cages become an allegory for the conditio humana in the state of emergency of political and social uncertainty.
In two works, choreographer William Forsythe explores another, key point of access to these issues. In his installation The Fact of Matter (2009/2016), he transfers the choreographic thought process to the situation in the exhibition space, to the confrontation between spatial givens and visitor response. Forsythe opens up new possibilities for artistic research through specific physical constellations – attaining a level of interconnectedness between the physical and emotional that creates a basis for a different kind of perception. This is similarly explored in his choreography Human Writes (2009) where drawings created by the dancers' bodies during the performance are, by proxy, documents of their actions to convey experiences of a past physical conflict through dance.

NARRATION AS AN ACT OF DECOLONISATION
In Alkoven (2016), an installation recalling the traditional niches in the architecture of Ottoman houses, Ayșe Erkmen plays with the motifs of Orientalism, the ornamental and the ceramic. Yet something terrible lurks beneath the appearance of the "beautiful". The motifs are based on reproductions of landmines, referencing the political fault lines which not only run through the border areas in Eastern Turkey, but also globally.
Ukrainian artist Nikita Kadan's Procedure Room (2009), with its series of plates bearing printed images of the forms of torture included in a military handbook, can also be situated in this context. Just as in Ayșe Erkmen's installation, the work re-interprets the aesthetic vocabulary. In a similar way, Watchtowers (2008) by Palestinian artist Taysir Batniji plays with Bernd and Hilla Becher's aesthetics of industrial photography. Despite military restrictions, he stages the watchtowers along the Israeli-Palestinian border in the West Bank in a series of black-and-white photographs.
This strategy of aesthetic fracture, of counter-narrative, is also apparent in Lawrence Abu Hamdan's video work Double Take (2014) in which he describes a re-interpretation of a painting by the great French Romantic artist Théodore Géricault. Here, in an act directed to the appropriation of colonial history, a leader of Syrian Liberation Fighters against the French occupation is set in the painting in place of a French imperial officer. The Iranian artist Reza Aramesh adopts a similar strategy in his monumental triptych Aktion 117 (2011) in which the gesture of the suppressed is projected into a black-and-white photograph of the baroque interior of Louis XIV's Versailles.
Undoubtedly, the work of Isaac Julien occupies a key position here. In his Western Union. Small Boats (2007), he showed how Africa's lack of future prospects is intimately connected to the West's economic imperial structures. The result is a mass migrant movement to the North, leading to criminalisation and human trafficking. Isaac Julien forges a trajectory from the slave trade to the present day, uncovering the continued existence of colonial structures.
The young Ethiopian artist Robel Temesgen can also be located in this tradition of reflection on and questioning of contexts and power structures. In his documentary project Old News / Another Old News (2014–15), he exposes the trade with refugees in Ethiopia.
The positions of Turkish, Arab or Greek migrants form a chapter in European art history in the 1960s to 1980s which has often been forgotten. The artists migrating to Germany or France from the 1950s on have produced works informed by the struggle to get their bearings in a Western art scene, a radical reflection on their own situation and their own corporeality. Over the last years, after decades of "invisibility", they are gradually being "re-discovered", allowing their development to be seen as having equal weight in Eurocentric Western art. Here, the works of the Syrian painter Marwan Kassab-Bachi and the Greek sculptor Vlassis Caniaris serve as examples for many other artists.

TRANSIT ZONES
The present situation of artists, refugees and many others, include the experience of transit zones. Not only are globalisation, airports, cultural and religious differences, mobility and waiting now part of the awful experience of everyday life for refugees or asylum seekers, but they increasingly determine, influence and structure our daily lives and those of millions of migrant workers – and this is the horizon explored in three artistic perspectives. While developing her oeuvre, Argentinian artist Graciela Sacco has constantly returned to the experience of migrants and immigrants and two of her works from a series on migration are presented in the exhibition. In Untitled (2008), Indian artist Shilpa Gupta takes as her subject the waiting areas at airports, yet her automatic display board reflects just those cultural and religious differences which seemingly disappear in the transit spaces. Finally, in Deductive Object (2007) Korean artist Kimsooja creates a memento for what it actually means if you have to take all your belongings with you.
Scroll