Sorryyoufeeluncomfortable
(Imani Robinson & Rabz Lansiquot)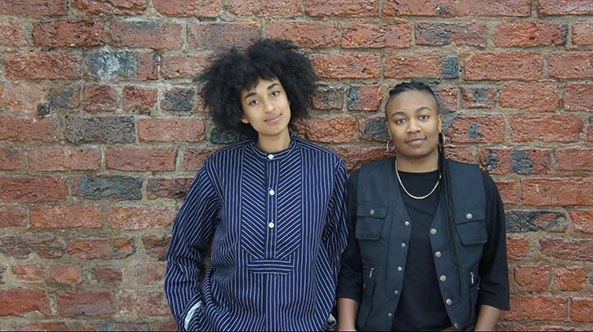 © Buki Bayode
sorryyoufeeluncomfortable (SYFU) is a London-based collective creating intentional spaces for radical study, conversation and multi-disciplinary art-making. Formed out of the Baldwin's Nigger Reloaded Project, initiated by artist Barby Asante and curator Teresa Cisneros, SYFU has presented work at ICA, 198 CAL, Wellcome Collection, Tate Exchange, The Showroom and Iniva in London, as well as BALTIC (Newcastle), KVS (Brussels), Nottingham Contemporary (Nottingham) and Framer Framed (Amsterdam). Most recently SYFU have been in residence at The Gallow Gate, Many Studios as part of the Glasgow International 2018 supported programme.
Imani Robinson is a writer, researcher and curator. Her artistic practice works with prose, poetry, dialogue and performance and is broadly concerned with psychogeography and blackness. She is currently completing an MA in Forensic Architecture at Goldsmiths, University of London.
Instagram: @afropoppins / www.imanirobinson.co.uk
Rabz Lansiquot is a filmmaker, DJ, programmer and curator. She received the Silverstone Award from the University of Sussex for her MA thesis 'On the Liberatory Implications of Documenting James Baldwin'. Her work is informed by Black liberatory thought, Black queer studies, and lived experience, seeking to highlight the nuances of marginalised experience, and move beyond representation, to liberation.
Instagram: @rabzlan / https://vimeo.com/rabzlan
Scroll