Digitization
Digitising the Prussian Akademie der Künste Archives
Project duration: April 2014 – November 2016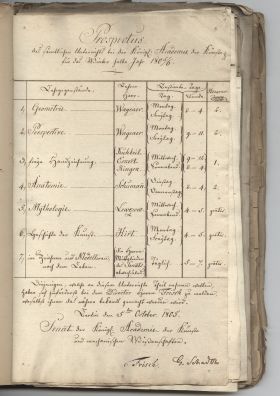 © Akademie der Künste, Berlin
The most extensive digitising project as yet in the Akademie der Künste Archives was successfully concluded in 2016. The Prussian Akademie der Künste Archives comprising over 77 linear metres has now been fully digitised. All 2842 volumes of files have been comprehensively indexed in the Archives Database. Supported by funding from the Federal Office of Civil Protection and Disaster Assistance (BBK) and under the Bundessicherungsverfilmung conservation programme, these materials were reproduced in analogue form and then scanned digitally. The security microfilms were produced in the Landesarchiv Berlin (state archive). The digitisation was carried out with the assistance of MFM Hofmaier, an external service company based in Munich.
The digitised written material is now freely accessible via the Archives Database and can be viewed and downloaded without prior registration. Not only are the files an excellent resource for Germany's and Berlin's art and cultural history, but also an outstanding aid to biographical research. Despite war losses, the history of the Prussian Akademie der Künste, the third oldest European Academy of Arts after Rome and Paris, is well documented from its founding in 1694–1696 until the Prussian state was dissolved in 1947.

Project Management: Werner Heegewaldt, Dr. Ulrike Möhlenbeck

In cooperation with the Landesarchiv Berlin and microfilm service MFM Hofmaier Munich.
Funded by the Federal Office of Civil Protection and Disaster Assistance (BBK) under the Bundessicherungsverfilmung conservation programme
Scroll