Digitization, Indexing, Cooperations
Heinrich Mann Digital –
A Transnational Reconstruction
Project duration: January 2019 – December 2021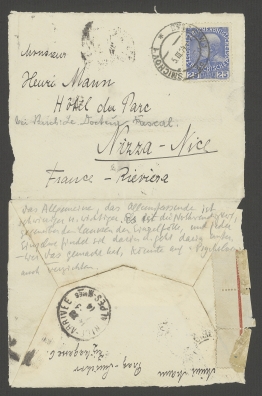 © Akademie der Künste, Berlin
Anyone who wants to study the manuscripts and letters of Heinrich Mann has to travel to Berlin and Frankfurt, Los Angeles and Moscow, Zurich and Marbach, Prague and Munich. This dispersion is no coincidence, but rather a consequence of the fractures and dislocations of the 20th century. For the first time, a shared platform will make the virtual reunification possible: In 2021, Heinrich Mann's oeuvre will be made available to research and the public in digitised form through the databases and digital presentation forms of the participating institutions.
As chairman of the Section for Poetic Arts of the Prussian Academy, Mann fought for the freedom of art until he was forced to resign and emigrate in 1933. He did the same thing as president of the German Freedom Library and of the German exiles' PEN Club in Paris, and again from 1940 when in exile in the United States. After 1950, the holding segments arrived in the archives step by step, after making some complicated detours. At the Akademie der Künste in East Germany, where Heinrich Mann could no longer assume the presidency, Alfred Kantorowicz built up the initial holding. During the Cold War era, the fact that the inventory was split up impeded accessibility for research and for the public. Fortunately, an awareness of the importance of the reconstruction of provenance and transmission paths essential to interpretation has awoken in the archives and in research.
Over the next three years, 30,000 scans will be taken at the Akademie der Künste Archives: of manuscripts, pre-press, and notebooks. By revealing the "jigsaw puzzle" of the archive holdings, it will become a digital model far beyond Heinrich Mann. It will demonstrate for the first time how a transnational approach can be used to elevate scattered literary holdings from the 20th century to a new level of visibility, structured according to chronology, provenances, holdings, and locations. This digital cooperation project provides corresponding impetus for edition philology, literary history, and provenance research.
Project management: Prof. Dr. Marcel Lepper
Project assistance: Christina Möller
The digital Heinrich Mann platform is a cooperative project by the Literature Archives of the Akademie der Künste, Berlin, with the Heinrich Mann Society, the University of Southern California, Feuchtwanger Memorial Library, the German Literature Archive Marbach, ETH Zurich, the Heinrich-und-Thomas-Mann-Zentrum Lübeck, and the Czech Literary Archive in Prague, among others, in agreement with the current edition projects and the publishers S. Fischer and Aisthesis.
Scroll