17.11.2020, 11 Uhr
Online now: Video presentation in honour of Georg Katzer, founder of the Studio for Electroacoustic Music
© Studio for Electroacoustic Music, Akademie der Künste, Berlin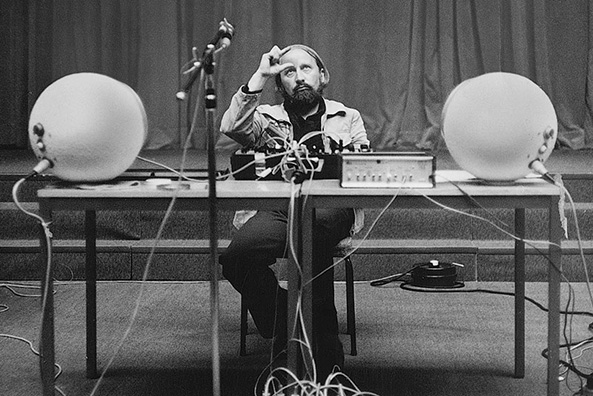 Georg Katzer, workshop of electroacoustic music, Kontakte I, 1980, Konrad-Wolf-Saal, East German Academy of Arts © Akademie der Künste, Photo: Christian Kraushaar
The Akademie der Künste remembers composer Georg Katzer (1935–2019) with a series of videos released on its YouTube channel. Katzer was one of the pioneers of electroacoustic music in the GDR and founded the Studio for Electroacoustic Music at the Academy of the Arts in 1980.
The focus of the presentation is on video recordings of rehearsals for six of the composer's central works. The videos provide insight into pieces created between 1979 and 1998 for instruments and electronics, including the Ballade vom zerbrochenen Klavier [Ballad of the Broken Piano], works from the series Imaginäre Dialoge [Imaginary Dialogues] and the multimedia works L'homme machine [Man a Machine] and Räume [Spaces], interpreted by musicians of the Ensemble JungeMusik.
The recordings of rehearsals are accompanied by interviews with artists who were close to Katzer. The composer and Akademie member Helmut Zapf speaks about his time as a master student under Katzer, about Katzer's electroacoustic music and the selection of pieces presented. The accordionist Gerhard Scherer-Rügert and the double bass player Matthias Bauer share insights into their collaborations with Katzer.
The composer Georg Katzer, who was born in 1935 in Habelschwerdt, Silesia and died in 2019 in Berlin, was one of the leading personalities of contemporary and electroacoustic music in Germany. His electroacoustic catalogue, which makes up around one fifth of his entire oeuvre as a composer, contains some 50 works for electronics alone or in combination with instruments. Georg Katzer was a member of the Akademie der Künste from 1978 until his death.
>> Video presentation on YouTube

Event
The music videos were created in preparation for a concert in the series EM4 | Berlin Studios, which was planned for May 6 of this year and had to be postponed due to the corona pandemic. The rescheduled concert, official guidelines permitting, will take place on
Wednesday, 16 December 2020, 8 pm
EM4 | Berliner Studios: Georg Katzer
Concert by the Studio for Electroacoustic Music
With Ensemble JungeMusik, Helmut Zapf, Rose Schulze and others
Scroll