Editions
Heinrich Mann: Essays and Journalism
Complete Critical Edition
Project duration: 2002 – 2021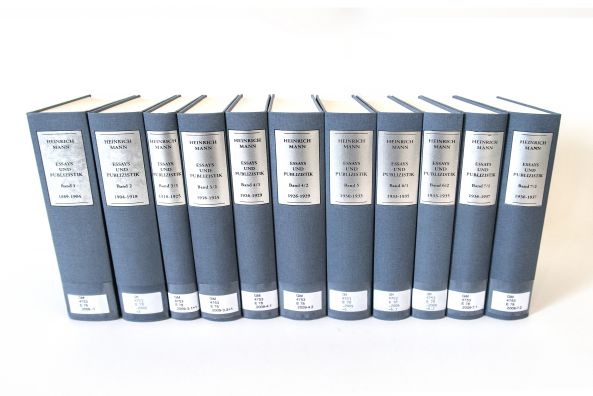 © Akademie der Künste, Berlin, Photo: Kerstin Brümmer
Publication of the complete critical edition of Heinrich Mann's essays, articles and journalism began in 2009 in the Bielefeld-based Aisthesis Verlag. It is thanks to them that this ambitious edition is being published – perfect in text design and commentary, and exemplary in typesetting and printing.
The complete edition has close links with the Akademie der Künste and a history going back nearly 60 years. On 24 March 1950, the Deutsche Akademie der Künste in East Berlin was founded. Heinrich Mann was to have been its first president, but died two weeks before the opening ceremony. Efforts immediately started to establish a Heinrich Mann Archive and produce a collected edition of the works of this left-wing liberal writer. Journalist Alfred Kantorowicz, appointed head of the archive, issued 12 volumes of selected works, including two volumes of essays (a third was published by Heinz Kamnitzer after Kantorowicz's flight from the GDR in 1957).
Over the years, the Heinrich Mann Archive developed plans for a new critical edition. The elements of the literary estate gradually arriving in Berlin from Prague, Los Angeles, France and Sweden not only provided material for basic research, textual comparisons and revisions, but also cast a new light on biographical questions and contemporary history. From 1965 to 1988, Sigrid Anger oversaw a Collected Works edition issued by the Akademie der Künste and published by Aufbau Press. Planned as 24 volumes, Vols 1 – 18 and Vol 24 have been published. By the late 1980s, work on an eight-volume edition of essays (Vols 20 – 23 each as 2 subvolumes), involving not only Sigrid Anger, but also Manfred Hahn, Werner Herden, Wolfgang Klein, Barbara Voigt and Ursel Wolff, was well on the way to completion. However, in the wake of the radical changes in 1989/1990, the edition could not be finished.
New attempts were made to publish these works, and the state of research reviewed and appraised. Finds in other archives and libraries, in particular the Heinrich Mann holdings in Los Angeles, Prague, Marbach and Moscow, as well as Brigitte Nestler's three-volume Heinrich Mann biography, have brought new insights and texts needing to be considered in any critical edition today of the essays, articles and journalism.
The overall editors for this critical edition are Wolfgang Klein, Anne Flierl and Volker Riedel, together with, in alphabetical order, Cordula Greinert, Manfred Hahn, Mandy Köppen, Ariane Martin, Peter Stein and Bernhard Veitenheimer as editors of individual volumes. At present, five volumes with texts from 1889 – 1925 and 1930 – 1935 have been published. The volume dealing with 1926 – 1929 is to be published shortly. Three further volumes for the years 1936 –1950 are in preparation.
The editors have been supported by the Heinrich Mann Archive, the University of Osnabrück as well as Isabel Kupski, Sascha Michel and Oliver Vogel in their work as readers and editors for this edition at S. Fischer Press.

Editors-in-chief: Wolfgang Klein, Anne Flierl, Volker Riedel
Funded by the German Research Foundation (DFG) (2002–2008), the Rosa Luxemburg Foundation and the FAZIT Foundation
Scroll