Digitization, Restoration
Sustainable Building in Berlin - Hugo Häring's Architectural Plans
Project duration: January 2021 – December 2021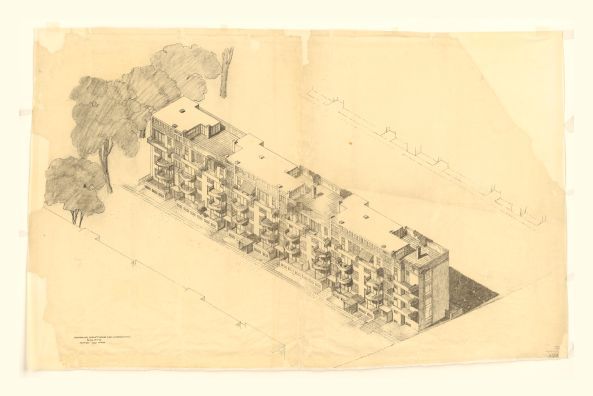 © Akademie der Künste, Berlin
Hugo Häring (1882-1958) was one of the most important architects of the Neues Bauen (New Building) movement in Berlin. The complete estate in the Archives of the Akademie der Künste documents the extensive work of this innovative architect. From today's perspective, it offers important approaches to research on highly topical urban planning and architectural issues, such as the question of location and the appropriate use of materials, the relationship between form and function and, last but not least, the development of floor plans based on social needs.
Hugo Häring was one of the masterminds of a humanistic architecture of the modern age. With the digitisation and publication of the plan materials, the Akademie der Künste hopes to inspire both research and anyone interested in architecture to come to a new understanding and take a progressive and courageous approach to architecture.
The conservation, digitisation and online publication of Häring's project-related plans and drawings from 1906 to 1956, which are already listed and accessible via the Archives Database - a collection comprising 1700 sheets - are the centrepiece of the project. Up to now, only isolated digital copies have been available of this visual material, which is equally relevant for both architectural historiography and contemporary architectural practice.
Architectural history previously concentrated on just a few of Häring's buildings which, like the Gut Garkau Farm Estate, were included in the canon of Modernism because of their formal language, conceived entirely out of function, and are therefore generally included in surveys as evidence of "organic functionalism". The much larger and at least equally relevant part of his architectural oeuvre, on the other hand, has often been omitted.
This gap is to be closed systematically and fully by the digitisation project, i.e. information and images are to be linked. Permanently preserving this rich source and making it public availability will stimulate new research approaches and open up other perspectives on Hugo Häring's important work.

Project management: Dr Sibylle Hoiman, Dipl. Rest. Marieluise Nordahl, MA
Project collaboration: Juliane Kreißl, Aitana Agulló Ribera, Asja Braune, Doreen Kähler, Monique Thunert, Volkmar Ernst

Funded by the Senate Department for Culture and Europe of the State of Berlin, funding programme for the digitisation of cultural heritage objects, Berlin 2021
Forschungs- und Kompetenzzentrum Digitalisierung Berlin (digiS)
Scroll