Archives Database
The Akademie der Künste Archive may be used free of charge for scholarly, private, or press research. Since December 2015, the Archives Database offers a regularly updated online digital research tool. The database contains information on all the Archive's collections and comprises around 1,020,000 archival materials and approx. 462,000 analogue and digital copies of archival materials (media files). In addition to the art collection and collection of documents relating to the Academy and its predecessor institutions, the holdings also include 1,200 archives on individual artists from the modern period, the collections of 49 institutions and associations as well as 80 themed collections.
In the archives overview, the database provides basic information on all the archives and collections (e.g. Heinrich Mann Archive). The overview is displayed in a hierarchical tree structure (plan of record groups). Through individual hierarchical levels, users can access Archives departments, collections, sub-collections and related classifications. The view function (V= View) provides details on specialist departments and holdings and on the individual archival materials, art works and museal objects, and indicates whether the collections are fully or partially accessible, or not accessible as yet. General information can also be found on the holdings of all the archives and collections. However, the database does not provide access to all archival materials; in such cases, users are asked to consult the typed search aids in the reading rooms.
The Archives Database offers three different research options: archives search (Bestandssuche), free text search (Freitextsuche) and media search (Mediensuche). The archives search offers an initial structured access to information on the archival materials. The free text search function searches across the entire database. The advanced options offer filters to further refine the search criteria. The media search locates and displays analogue and digital copies of the archival documents (e.g. photos, audio and video files, microfiches, and PDF files). Due to copyright and personal rights, only a limited number of these files can be viewed online.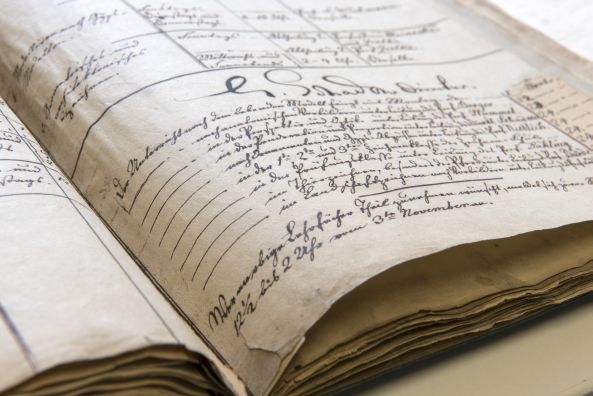 Photo: Erik-Jan Ouwerkerk © Akademie der Künste, Berlin
Scroll