Digitization
Digitising the Literature Archive's analogue inventories and finding aids
Project duration: October 2015 – June 2016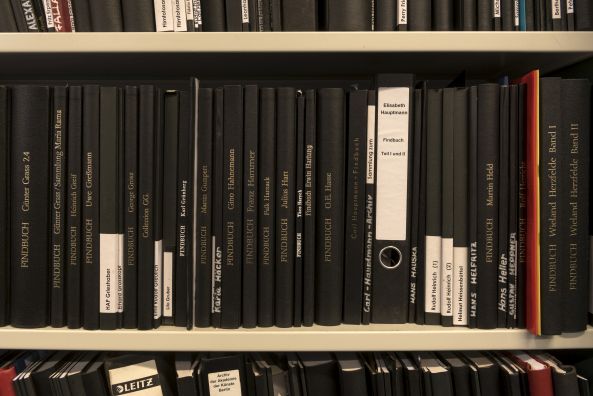 Akademie der Künste, Berlin © Photo: Erik-Jan Ouwerkerk
The Archives of the Akademie der Künste has digitised inventories and finding aids dating from between 1950 and 1996 for the personal papers of 33 authors. In this digital form, the material can be placed online, providing far more convenient access to these finding aids originally compiled prior to computer-aided indexing. Previously, the finding aids could only be researched in the Reading Room. Now, online users can browse and search for information in a total of 57 inventories (inventories for some holdings comprise several volumes) with over 21,000 individual items. This digital material relates to such frequently requested archives as Ingeborg Drewitz, Alfred Kurella, Bodo Uhse, Erich Weinert, Günther Weisenborn, Friedrich Wolf and Arnold Zweig. In addition, online research is now possible into the editorial documents for the Academy's Sinn und Form journal between 1948 and 1961.
For the process of digitising, the selected inventories were initially cut open, digitised using a document scanner with a feeder system and subsequently rebound so they are still available in their physical form to Reading Room users. In total, 7,137 pages were scanned and, using OCR, prepared for a full-text search. Depending on the quality of the originals, the OCR attained levels of over 90% recognition – in many cases even almost 99%. The finished PDF files, from 13 to 835 pages, can be downloaded from the Archives Database. An initial search can be conducted systematically via the holdings structure or the index as well as by a full-text search across the entire digitised material.
Over the next years, plans are in place to drive forwards new indexing and retroconversion projects, providing for the complete transfer of indexing information for inventories or card file indexes into individual database records. Hence, digitising these first inventories represents an important step in this process.
The following digitised inventories are now available online:
Martin Andersen-Nexø, Charon-Kreis, Curt Corrinth, Walter Dehmel, Ingeborg Drewitz, Karl Grünberg, Theo Harych, Peter Kast, Edith Klatt, Alfred Kurella (archive and collection), Berta Lask, Auguste Lazar, Hans Marchwitza, Lu Märten, Peter Nell, Hans José Rehfisch, Max Schröder, René Schwachhofer, Sinn und Form, Ludwig Strauss, Ludwig Turek, Bodo Uhse, Martha Weber, Alex Wedding, Erich Weinert, Günther Weisenborn, Franz Carl Weiskopf, Leo Weismantel, Erich Wendt, Paul Wiegler, Friedrich Wolf, Otto zur Linde, Arnold Zweig

Project Management: Franziska Galek, Uta Simmons
Scroll