Digitization, Indexing
John Heartfield. Online Catalogue and Virtual Exhibition
Project duration: June 2016 – March 2020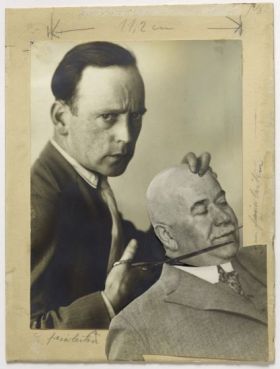 Akademie der Künste, Berlin © The Heartfield Community of Heirs / VG Bild-Kunst, Bonn
The personal papers and artistic estate of John Heartfield, comprising a total of around 6200 items, are considered the best-known holding in the Akademie der Künste's Art Collection. Not only do these items include original photomontages and designs for book covers and posters, but also stage and costume designs as well as Heartfield's collection of materials. Thanks to generous funding by the Ernst von Siemens Kunststiftung, this indexing project is making the entire holdings publicly accessible in an Online Catalogue.
The digitisation project, including photos and negatives from the Visual Arts Archives' Heartfield holdings, follows on from individually indexing the items and art works by linking personal details, supplementing search words and highlighting connections to other objects. In this way, many works previously unknown to scholars can be brought from storage into contemporary discourse, giving a new impetus to Heartfield research. For the first time, the development of various motifs in Heartfield's oeuvre can be traced online or alternative designs viewed and compared. With the zoom and lightbox functions, the entire diversity of Heartfield's oeuvre can be studied in detail.

In a parallel project, the Heartfield Cosmos is being presented in a virtual exhibition. Selected objects from all the Archives Departments illustrate various facets of Heartfield's life and work, including such lesser known aspects of his oeuvre as his work for the stage. A selection of applied art works and ephemera collected on Heartfield's travels and during his years in exile testify to his own particular way of seeing and reflect his eventful life. Through selected photos and letters to and from cultural practitioners, friends and family members, his productive network is presented as reflected in the Akademie der Künste's holdings. The critical commentaries on individual objects, including original audio recordings as well as interviews with contemporaries, encourage diverse perspectives on and points of access to these works. Supplementary themed texts present the works in their cultural historical context, and relate them to Heartfield's biography. The online catalogue and bilingual (DE/EN) Virtual Exhibition, with their accessible design, set out to attract a broad international audience as well as students and educational institutions, and serve as an inspiration to Heartfield research and scholarship.

Kosmos Heartfield – Virtual Exhibition

Project Management: Anna Schultz, Dr. Rosa von der Schulenburg
Project Assistants: Meike Herdes, Myriam Hilmes
Funded by the Ernst von Siemens Kunststiftung
Scroll