Digitization, Cooperations
Retroconversion of the Art Collection's card inventory
Project duration: April 2014 – December 2014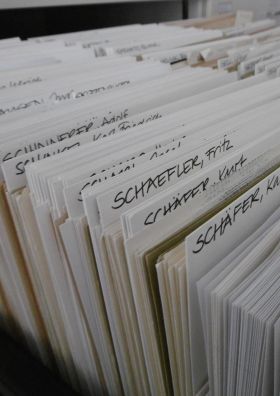 Akademie der Künste, Berlin
For decades, index cards listing individual art works as well as bundles of papers (portfolios, etc.) were the primary finding aid for Art Collection staff and visitors. To facilitate the digital indexing of the holdings, an external service was commissioned to scan the pre-sorted index cards. In addition to the key information about the work and a photo, the cards also often contain valuable notes on its provenance and exhibition history.
After the digital materials had been reviewed, the Hotfolder application was used to automatically link the materials to empty datasets. An external service team was contracted to enter the five key data of inventory number, artist (with GND link, if applicable), title and date of work, and material/technique.
Subsequently, the Art Collection staff conducted the process of checking the data entered, making any corrections or additions necessary, and assigning the newly generated datasets to individual holdings. This retroconversion not only allowed indexing standards to be unified, but also supported a review of the holdings.
Thanks to the new screen display of the digital materials, Reading Room users can gain an insight, quickly and simply, into the extensive Art Collection holdings. Although the digital index cards are not intended to replace viewing and studying the original art work, they do provide an initial impression of the original which may be sufficient for some research purposes.
The retroconversion project creates a new permanent range of options for research. Aside from providing an overview of the wealth of the Art Collection's holdings, it also includes links to other Archive departments. The data records are to be both sporadically and systematically supplemented in accordance with copyright laws by adding, for example, digital works in the public domain.

Project Management: Werner Heegewaldt, Anna Schultz
In cooperation with Mikro-Univers GmbH (scanning) and the Media Archives of the Akademie der Künste
Scroll