Digitization, Indexing, Cooperations
"Whodidwhattowhomwasneverreallyclear…"
Indexing and digitisation of the dance films of the Tanzfabrik Berlin
Project duration: February 2017 – December 2017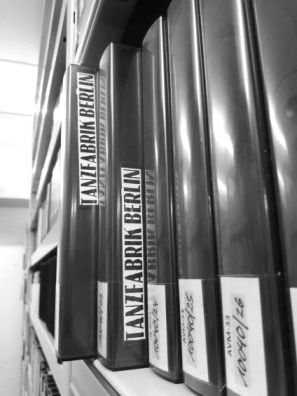 Akademie der Künste, Berlin, Photo: Helene Herold
In a digiS-project commissioned for the 2017 funding year, a digitisation project was undertaken in collaboration between the Archives of the Akademie der Künste, Berlin, the Tanzfabrik Berlin and the International Theatre Institute / Mime Centrum Berlin (ITI/MCB): Dance films produced by the Tanzfabrik Berlin from 1978 to 1990, which have been stored on VHS cassettes or U-matic tapes in the Performing Arts Archive of the Akademie der Künste since 2012, have now been indexed and digitised.
The Tanzfabrik Berlin, a centre for modern dance, improvisation and experimental dance forms founded in 1978 and still in existence today, is one of the most extraordinary phenomena in Berlin's contemporary dance history. Choreographies were developed in a collective, and until the 1990s the Tanzfabrik was also managed collectively.
The dance evenings, which were recorded using the video technology of the time, were held in Berlin and serve as unique testimonies to the modern dance of the period from the 1970s to the 1990s.
The project entails the indexing and digitisation of 32 video documents initially selected out of the 250 videocassettes in the archives, which included numerous duplicates and videotapes that were no longer playable.
Within the course of the project it was possible to secure most significant choreographies from the first phase of the Tanzfabrik, including Abendspaziergang, Liebste Liebe, Buddy Bodies, Terra incognita and Schwitters Ursonate.
The digital copies are now available under Archiv Tanzfabrik in the Main Reading Room of the Akademie der Künste at Robert-Koch-Platz 10, and can also be viewed in the ITI/MCB Media Library for Dance and Theatre. Provided that the necessary rights are obtained, the digital copies will also be made available on the ITI/MCB website.
Project management: Thilo Wittenbecher, Internationales Theaterinstitut/Mime Centrum Berlin
Scroll