Editions, Cooperations
Werke und Nachlaß – A critical edition of Walter Benjamin's complete works
Project duration: since 2006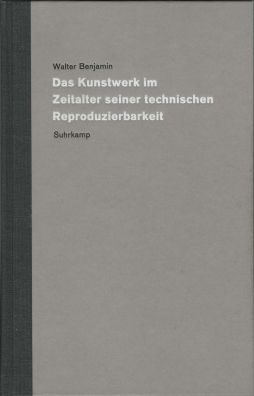 Since 2008, Suhrkamp Press has been publishing Werke und Nachlaß, a critical edition of Walter Benjamin's complete works. In the course of preparing this new edition of 21 volumes, Benjamin's personal papers, which provide the basis for this critical edition, have been fully restored, digitised and newly indexed in the Akademie der Künste Archvies Database.
For the first time, this edition includes all Walter Benjamin's writings as well as the papers from his literary estate. The sequence follows a 'tentative chronology' with Benjamin's books, whether published or unpublished projects during his lifetime, all issued as individual volumes.
Each volume includes all the surviving versions of a text, together with drafts and notes. The texts are rendered in diplomatic transcription and retain their historical form, without standardising the orthography or punctuation. In addition, all the volumes provide extensive references with the history of each text's genesis and publication, line-by-line notes (with surviving variations and subject explanations), a document section with other sources such as letters, reviews and posthumous testimonia, as well as a postscript by the editor. The volumes conclude with an index of persons.
The critical edition of Walter Benjamin's complete works comprises the following volumes:
Volume 1: Jugendschriften
Volume 2: Philosophische und ästhetische Schriften
Volume 3: Der Begriff der Kunstkritik in der deutschen Romantik
Volume 4: Goethes Wahlverwandtschaften
Volume 5: Gedichte und Erzählungen
Volume 6: Ursprung des deutschen Trauerspiels
Volume 7: Charles Baudelaire, Tableaux Parisiens
Volume 8: Einbahnstraße
Volume 9: Rundfunkarbeiten
Volume 10: Deutsche Menschen
Volume 11: Berliner Chronik / Berliner Kindheit um neunzehnhundert
Volume 12: Essays zur Literatur
Volume 13: Kritiken und Rezensionen
Volume 14: Texte über Städte, Berichte, Feuilletons
Volume 15: Autobiographische Schriften und Protokolle zu Drogenversuchen
Volume 16: Das Kunstwerk im Zeitalter seiner technischen Reproduzierbarkeit
Volume 17: Pariser Passagen / Paris, die Hauptstadt des XIX. Jahrhunderts
Volume 18: Charles Baudelaire. Ein Lyriker im Zeitalter des Hochkapitalismus
Volume 19: Über den Begriff der Geschichte
Volume 20: Notizhefte und Notizblocks
Volume 21: Manuskriptkonvolute, Einzelblätter, Lichtenbergbibliografie
The volumes 11, 17, 18 and 20 are each supplemented by a digital partial edition of the manuscripts: Walter-Benjamin Digital
Project management: Christoph Gödde and Henri Lonitz, Frankfurt am Main; Thomas Rahn, Berlin
Commissioned by the Hamburger Stiftung zur Förderung von Wissenschaft und Kultur and edited by Christoph Gödde, Henri Lonitz and Thomas Rahn in cooperation with the Walter Benjamin Archive.
In cooperation with the Suhrkamp Verlag
Funded by the Hamburger Stiftung zur Förderung von Wissenschaft und Kultur
Scroll