Restoration
Conservational measures for the book collection in the Anna Seghers Museum
Project duration: September 2019 – June 2020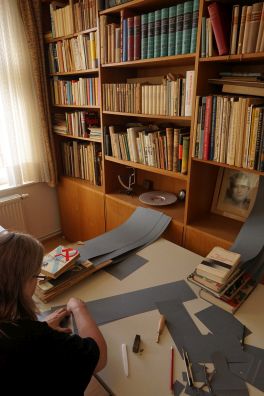 Akademie der Künste, Berlin © photo: Synke Vollring
The Anna Seghers Museum in Berlin Adlershof, which centres around the writer's original home and study, includes her extensive private library and many personal mementoes, as well as a showcase exhibition on her life and work.
The bequest library of the writer Anna Seghers is unique in the context of how the writer's work is preserved and communicated. The site was an important foundation and source of inspiration for the Mainz-born writer and reflects the circumstances of her life and work. In 1933, Seghers was forced to flee to France, from where her path took her first to Mexico, then via Sweden back to Berlin. The library, which for many years was thought to have been lost, survived in a Paris cellar under fortunate circumstances. Against the background of the considerable losses of German cultural heritage as a result of the Nazi regime's "purges", the persecution and flight from Germany and the destruction of the war, this completely preserved private collection of Anna Seghers is of great value. The collection includes valuable and rare first editions, translations of her books – some from distant places and into remote languages –, the extensive French library from her period of exile up to 1940, art history volumes from her studies in Heidelberg as well as early editions of fairy tales and legends. Of particular importance are the numerous books containing dedications by writer friends from around the world.
This extensive project entails the cleaning of the preserved book collection and the decorative figures on the shelves. In the process, the collection's condition will be assessed and recorded so that further individual preservation measures can be taken as needed. Fragile objects such as brochures or defective book covers will receive custom-fitted protective packaging. Presentation aids will be built to allow the original shelving configuration, including horizontally stacked books, to be retained. The book preservation measures will also provide the occasion to check the sequence of the books based on shelfmarks, and to process any volumes not yet indexed in the library.

Project management: Ingeborg Fries, Susanne Thier, Elke Pfeil
Project collaboration: Katharina Lußky, Diploma in conservation
Funded by the Federal Government Commissioner for Culture and the Media
Scroll