Applied Arts Collection
The Applied Arts Collection is dedicated to personal and cultural historical artefacts. The holdings also include applied art works from the estates of artists, in particular of Academy members, across the various disciplines, as well as works presented to the Academy during an artist's lifetime, especially those related to productions and, in particular, performances.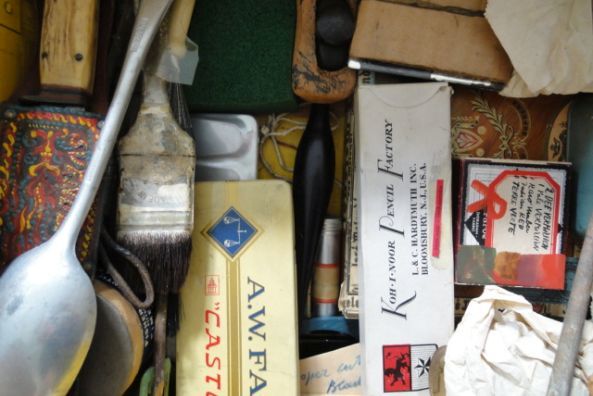 Akademie der Künste, Berlin © Photo: Anna Schultz
Theatre props and costumes as well as stage set models comprise one important collecting area. The former include items, for example, from the estates of Walter Felsenstein and Christoph Schlingensief, while the latter are the work of such figures as Achim Freyer, Hans Dieter Schaal, Andreas Reinhardt and Wilfried Minks.
The holdings also include testimonials and official documents, as well as utensils used by cultural practitioners from painting materials to music instruments and typewriters. Together with all kinds of collected souvenirs, the Applied Arts Collection is also home to personal objects – such as furniture and other household goods – as well as private collections ranging from Arnold Zweig's coin collection to John Heartfield's ceramic, glass, and impressive East Asian collection with pottery and small-scale sculptures. In addition, the comprehensive holdings of East Germany's Zentralhaus für Kulturarbeit, comprising paintings, graphic art works and sculptures as well as ceramics and textiles, provides an insight into the wide spectrum of art in popular culture in East Germany.
Scroll