Walter Benjamin Archive Library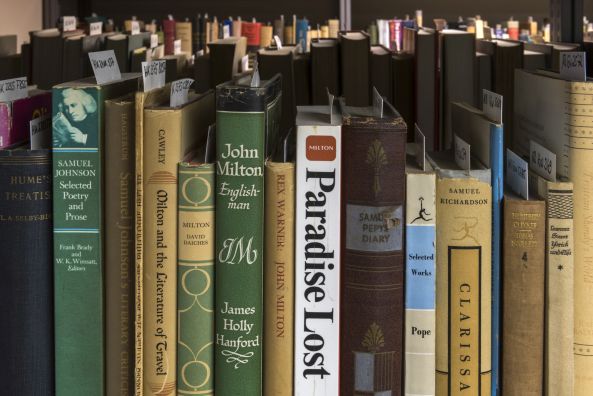 Akademie der Künste, Berlin © Photo: Erik-Jan Ouwerkerk, 2017
The Walter Benjamin Archive Library is a specialist library comprising approximately 4,000 media items. The holdings, which are available for reference only, are constantly being expanded through the acquisition of new and historical items. The Walter Benjamin Archive Library includes the holdings of the Leo Löwenthal Library.

Collection area

Literature by and on Walter Benjamin
Editions of Benjamin's works during his lifetime
All first editions, scholarly editions and editions of selected works
Printed works in journals and anthologies of all kinds
Offprints, facsimile editions
Translations in forty languages
Literature by and on Dora Benjamin, Dora Sophie Benjamin, Theodor W. Adorno, Florens Christian Rang, Werner Kraft, Fritz Fränkel, Gisèle Freund, Gershom Scholem, Gertrud Kolmar and Franz Hessel

Holdings
Dictionaries, compendiums, catalogues, monographs, yearbooks, indexes, theses, conference proceedings, commemorative publications, collected works, illustrated books, calendars, offprints, audio books, music CDs, films (DVD + Video), extensive collection of journal and newspaper articles.

Leo Löwenthal Library
The private library of literary sociologist Leo Löwenthal (1900–1993) comprises around 7,000 volumes. Thanks to an agreement between Löwenthal and the Hamburger Stiftung zur Förderung von Wissenschaft und Kultur, scholars and interested members of the public can now access this former private library through the Walter Benjamin Archive. The Leo Löwenthal Library focuses on philosophy, psychology, comparative religion, general and comparative literature, history and sociology. The holdings, complete with references to dedications, signatures, revisions and addenda, have been added to the OPAC electronic library catalogue (with 'NB Löwenthal' in the 'call number' search field, the Advanced Search function shows all catalogue entries for the Leo Löwenthal Library). Visitors to the library are required to register in advance.
The Leo Löwenthal Library is especially interesting for its collection of over 500 dedicated copies (e.g. Max Horkheimer, Theodor W. Adorno, Siegfried Kracauer, Herbert Marcuse, Friedrich Pollock, Jürgen Habermas, and Paul Tillich) as well as its large number of first editions (e.g. Helvetius: Oeuvres complèttes, 1777; Mirabaud: Systême de la nature, 1781; Lamettrie: Oeuvres philosophiques, 1775; Baader: Sämmtliche Werke, 1850; Spencer: The Principles of Psychology, 1876).

Research
The holdings of the Archive Library can be researched in the OPAC electronic library catalogue and the Archives Database.

Collection Donations
We would ask you to support the expansion of the library by providing us with copies of your works on Walter Benjamin, Theodor W. Adorno and Florens Christian Rang (or references to publications or performance locations, broadcasting dates, order numbers, etc.).
Scroll