24.1.2022, 11 Uhr
Richard Peduzzi receives the 2022 Berlin Art Prize – Grand Prize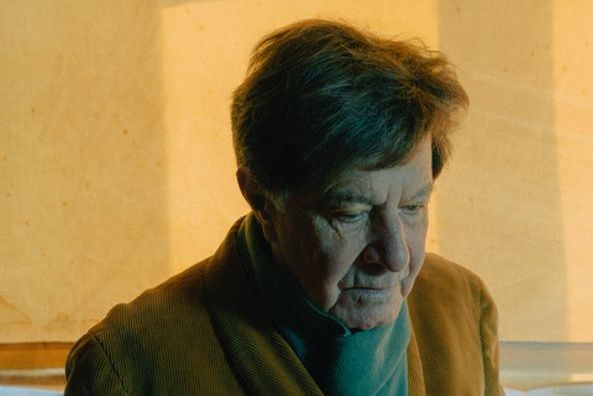 Photo © Adrien Selbert
The French architect, painter and stage designer Richard Peduzzi is the winner of the 2022 Berlin Art Prize – Grand Prize, which will be awarded on 18 March 2022 by Berlin's Governing Mayor Franziska Giffey and Akademie President Jeanine Meerapfel at the Akademie der Künste, Pariser Platz.
The Akademie der Künste awards the prize worth EUR 15,000 in each of its six sections in turn on behalf of the State of Berlin. The jury consists of Akademie members Herbert Fritsch, Nele Hertling and Mark Lammert.
Richard Peduzzi (born in 1943) designs exhibition spaces and presentations for international museums. He has created set designs primarily for Patrice Chéreau, collaborating on all of Chéreau's theatre, opera and film productions, and later also for Luc Bondy.
Explaining the jury's decision, Mark Lammert writes: "The theatre spaces, opera spaces, film spaces, exhibition spaces and architectural spaces that Richard Peduzzi has built thrive on the tension from the interaction and connection between the architectural operation and the poetic feeling. The fact that these spaces are regarded as paintings and Richard Peduzzi as a painter has to do with their effect and the way they are produced. The act of drawing and the drawn work are what sustains and informs Richard Peduzzi's practice. When in 1967 the 24-year-old painter Richard Peduzzi met Patrice Chéreau, the 23-year-old son of husband-and-wife painters, forging an uninterrupted working partnership until Chéreau's death in 2013, they established a unique two-way collectivity where each represented the other's alter ego. The starting point was a kind of complicity of 'child prodigies' on their way to 'world theatre'."

In addition to the Grand Prize, the six Berlin Art Prizes each worth EUR 5,000 will be awarded on 18 March. The prizes will go to the artist Stephanie Gudra (Visual Arts Section), the landscape architects of atelier le balto (Architecture Section), the composer Øyvind Torvund (Music Section), the writer Roman Ehrlich (Literature Section), the theatre and film actor Bastian Reiber (Performing Arts Section) and the director and screenwriter Bettina Blümner (Film and Media Arts Section).
In addition, the Will Grohmann Prize 2021 will be presented to the Berlin-based US artist Zoë Claire Miller (see press release of 21.12.2021). The winners of the Will Grohmann Prize are either visual artists or a personality from the field of art criticism, art theory or the exhibition world.
The Berlin Art Award – Jubilee Endowment 1848/1948 was established by the Berlin Senate in 1948 in commemoration of the March Revolution of 1848. It has been awarded by the Akademie der Künste on behalf of the Land since 1971. The winners of the Grand Art Prize in recent years have been Annett Gröschner (2021), Younghi Pagh-Paan (2020), Renée Gailhoustet (2019) and Thomas Demand (2018), and in the performing arts most recently Frank Castorf (2016) and Thomas Langhoff (2010).

Brief biography of Richard Peduzzi
The architect, painter and set designer Richard Peduzzi, born on 28 January 1943 in Argentan, France, was director of the École nationale supérieure des arts décoratifs, Paris, from 1990 to 2002, and was subsequently in charge of the Académie de France in Rome, based at the Villa Medici, from 2002 to 2008. From 1969 he designed the stage spaces for Patrice Chéreau's entire theatrical oeuvre, including the "Centenary Ring" for the Bayreuth Festival in 1976, and from 1988 also for numerous theatre and opera productions by Luc Bondy; for their productions, among others, at the Piccolo Teatro, Milan, Théâtre des Amandiers, Nanterre, Opéra national de Paris – Palais Garnier, Théâtre La Monnaie, Brussels, Festival d'Avignon, Salzburg Festival, Berlin Schaubühne, Odéon-Théâtre de l'Europe, Festival d'Aix-en-Provence, La Scala, Milan, Bavarian State Opera and Wiener Festwochen.
As an exhibition designer, he has been responsible for numerous international exhibitions, including at the Grand Palais, Musée d'Orsay and Louvre in Paris, the Guggenheim Museum, New York, Martin-Gropius-Bau, Berlin, and many others.

He has won several Césars for film sets for Patrice Chéreau (La chair de l'orchidée, 1976, La Reine Margot, 1995, Ceux qui m'aiment prendront le train, 1999) and the Molière for stage spaces for Chéreau's productions of Hamlet in 1989 and Rêve d'automne in 2011. Richard Peduzzi lives in Paris.
Scroll