17.10.2022, 12 Uhr
LOOM – Interweaving the Arts in Europe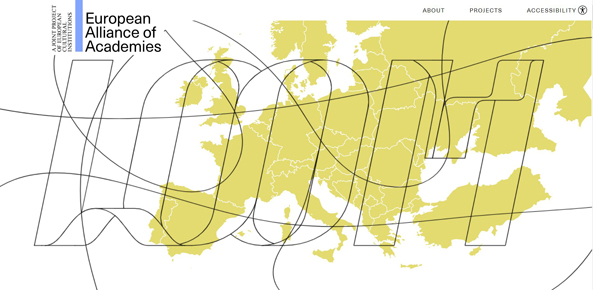 Graphic: Eps51
The European Alliance of Academies launches LOOM – Interweaving the Arts in Europe, a digital platform for artistic cooperation among the institutions and artists of the network, providing possible answers to current social and cultural questions. LOOM is a digital space for the cause of freedom in the arts – a space in which artistic positions are juxtaposed with current political challenges. It aims at creating a digital territory that transcends the local reach of artists and institutions and "weaves" artistic practices in Europe, across borders, into a colourful tapestry.
In 2021 – in the midst of the Covid-19 pandemic – the European Alliance of Academies developed its first call for projects based on the topic of biopolitics: Ignorance is Strength? Artistic Expression and Biopower in the (Post)Pandemic Age. Digital residencies provided artists who are associated by the institutions of the European Alliance of Academies with the space to reflect on their own practices in the aftermath of the pandemic and in the context of current social and political changes.
The first ten virtual residencies were announced in January 2022. The artistic projects are now published on LOOM – Interweaving the Arts in Europe:
Iulian Bisericaru, I prefer the old Green
Larisa Crunțeanu, 12 Years
Cássio Diniz Santiago, Synthax of Care
María José Crespo, Govern yourself accordingly
Luïza Luz, Privilege of Dreaming
Rebecca Merlić, Željko Beljan, Truth Is a Forgotten Memory
Karina Pino Gallardo, Ricardo Sarmiento Ramírez, Mund auf
Dimitrina Popova, The Five Houses
Jovana Popić, Controlling Future: Technologies of Resistance
Anahita Razmi, Generics
The artistic positions were selected by an international jury, composed of Liesbeth Bik (artist, chair of the Akademie van Kunsten KNAW), Arnold Dreyblatt (artist, composer, musician, member of Akademie der Künste), Kristoffer Gansing (director of the International Center for Knowledge in the Arts – The Royal Danish Academy of Fine Arts), Anca Poterasu (director of the Romanian Association for Contemporary Art), Cristina Stoenescu (curator of the Romanian Association for Contemporary Art), Josip Zanki (artist, vice president of the Croation Association of Fine Artists) and Siegfried Zielinski (media theorist, member of the Akademie der Künste).
The artists will have the possibility to present their projects at the next conference of the European Alliance of Academies, entitled "The Freedom of Art in Times of War and Crisis", taking place 15-16 December 2022 at Akademie der Künste, Berlin.
Scroll