22.5.2023, 12 Uhr
Now available: Journal der Künste 20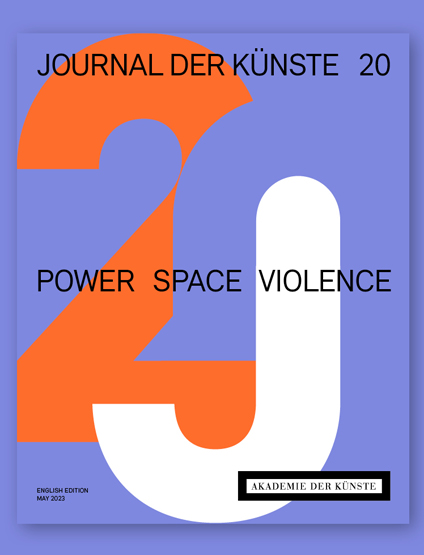 © Heimann + Schwantes
The new issue focuses on how the arts deal with the relationship between power, space and violence: What is a poem in the face of a revolution? What responsibility does Berlin, as the "capital city of exiles", have towards the émigré artists living here, especially in light of Germany's history? Can architecture be neutral, and how do spaces affect our behaviour? What can a single naked body accomplish when set against the brutality of Nazi architecture?
The artistic examination of the architectural and ideological legacies of National Socialism in this issue has been prompted by the exhibition "POWER SPACE VIOLENCE. Planning and Building under National Socialism" (19 April – 16 July 2023), in the context of which architectural historian Regina Stephan provides an insight. Eszter Salamon confronts the Nazi architecture of the Berlin Olympic Stadium with the choreographic language of Valeska Gert in her film "Summer Games". In an interview, Monica Bonvicini talks about her longstanding focus on questions of power and violence in her work, also in relation to architecture. Joanna Piotrowska's photographs examine how structures and architectures create boundaries and demarcations.
Tanasgol Sabbagh's poem reminds us of the role of the arts in the revolutionary process in Iran; the issue's "Carte Blanche" goes to filmmaker and Villa-Serpentara-Fellow 2022 Mina Keshavarz, who has not yet been able to leave Iran to take up her residency. Matthias Lilienthal reflects on the meaning of exile beyond the narrow concept of persecution; Meron Mendel looks at recent discussions and asks when and how art should take feelings into account.
The reform of public service broadcasting is an ongoing focus of interest. Kathrin Röggla talks to Gerhart Baum about its cultural mandate. Dominik Graf looks at the precepts of film investors, and Senthuran Varatharajah argues that it is not just the content of a text that needs to be "read", but also its form.
The Archive presents the newly acquired estate of the Sorbian author Kito Lorenc, and Sibylle Hoiman talks to Winfried Brenne about his collection of material samples from modernist buildings. Annett Gröschner commemorates the 125th birthday of Bertolt Brecht.
Incidentally, the 20th issue refers with its cover design to the first Journal der Künste, which was published 5 years ago.
The Journal der Künste is available in German and English and is free of charge. If you wish to receive the print version of a single issue or if you are interested in a subscription, please send an email to info@adk.de or use the order form.
Scroll