Organisation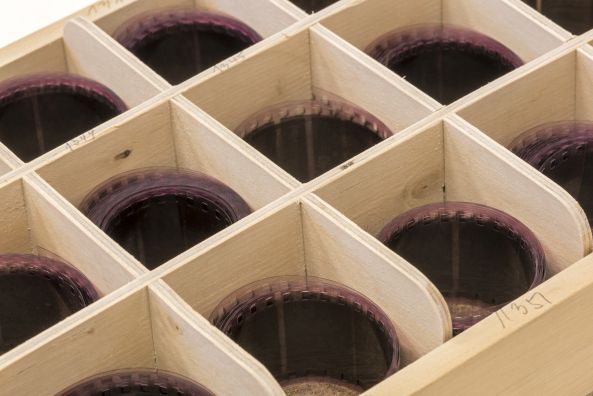 Rolls of negatives in the Bertolt-Brecht-Archive, Akademie der Künste, Berlin © Photo: Erik-Jan Ouwerkerk, 2017
The Archives of the Akademie der Künste function as an umbrella organisation for all three memory institutions – the archives, library and museum. In this way, the Archives can offer ideal conditions for research into modern art, and provide for the requisite professional care of what is a very heterogeneous collection. For the stewardship of the archival materials, collections and art works, and to make them available to the public, the Archives have a staff of over 80 employees.

The Archives are managed by the Archives Director's Office, whose remit also covers the acquisition of materials, the event programme and research projects. The Archives Director's Office is supported by the Archives Board, comprising experts from all the Academy Sections as well as representatives of the Federal Government and the state governments of Berlin and Brandenburg. The Archives Director is a member of the Akademie der Künste's executive management.
The Archives of artistic estates are held in six departments reflecting the Academy's membership structure with its six Sections of the Visual Arts, Architecture, Music, Literature, Performing Arts and Film and Media Arts. In addition, the Media Archives is responsible for the audio-visual collections. The independence of the Walter Benjamin and Bertolt Brecht literary archives is a product of their historical development. The Historical Archives, with their administrative documents, serve as the memory of the Akademie der Künste down the centuries. The library is a specialist arts library with the particular collection area of bequest libraries. The art collection has its roots in the original teaching and display collection, providing visual materials for art students and their teachers. It also includes works that were submitted by prospective Academy members, presented as gifts or acquired together with artists' archival materials. With the Brecht-Weigel Museum and the Anna Seghers Museum, the Archives also include two museums in these artists' homes. Restorers are responsible for the preservation and conservation of the many diverse elements in the collection, while registrars document the loans for exhibitions. The Archives support the professional development of the next generation of archivists by regularly training media and information services students majoring in archival studies.

The Academy Archives are held in various locations. The Archives Director's Office is housed at the main Robert-Koch-Platz location in Berlin's Mitte district, which is also home to the majority of Archives departments as well as the cross-departmental Visitor Services and Media Services. The Walter Benjamin Archive and the Art Collection are housed in Luisenstraße, together with the conservation and loans departments. The Bertolt-Brecht-Archive is located next to Brecht's historic former apartment in Chausseestraße. The Architecture Archives and the Library are at Pariser Platz.
Scroll